Recipe for Greek Eggplant and Cheese Casserole
Written by Greek Boston in Authentic Greek Food Recipes, Greek Vegetable Recipes Comments Off on Recipe for Greek Eggplant and Cheese Casserole
This dish is named after the Dellagraciano Castle that is located on the island of Syros. No one really knows exactly how this casserole was developed, but the common theory is that it came to be by a classically trained French-style chef who worked at one of the wealthy households back when the island attracted wealthy summer guests.
Greek Eggplant and Cheese Casserole Recipe Ingredients: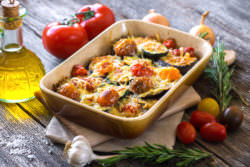 Roasted Eggplant:
4 medium eggplants, cut into rounds 1/2-inch thick
Salt, for sprinkling
Sauce:
1/3 cup Greek olive oil
1 large onion, chopped
2 green bell peppers, seeded and chopped
5 garlic cloves, chopped
1, 16 ounce can diced tomatoes with their juices
1 tablespoon dried oregano
1/2 teaspoon black pepper
Casserole:
1/4 cup bread crumbs
1 cup grated kefalotiri (or other meltable cheese)
1 cup grated Roman cheese
1/4 cup Parmesan cheese
How to Make Greek Eggplant and Cheese:
Preheat the oven to 400 degrees Fahrenheit. Brush a baking sheet with olive oil or spray with nonstick cooking spray.
Lay the eggplant flat onto a large cutting board and sprinkle with salt. Let stand for ten minutes and then pat dry. Arrange in a single layer on the baking sheet and brush the tops with more olive oil. Bake until it starts to turn golden brown. This should take 15-20 minutes. Remove from the oven to cool. Set the heat to 350 degrees Fahrenheit.
Prepare the sauce while the eggplant bakes.
Pour the olive oil into a large saucepan. Set the heat to medium and warm the oil for a minute. Add the onions and saute until soft, about five minutes. Add the green peppers and garlic and saute for another two minutes. Stir in the tomatoes, oregano, and black pepper. Set the heat to medium-low and simmer the ingredients for about 15 minutes. Remove from heat and set aside.
Brush a casserole pan with olive oil. Arrange the eggplant into a single layer. Top with some of the sauce. Add another layer of eggplant and then more sauce. Continue making these layers until all the eggplant and sauce are used up.
Mix the breadcrumbs, kefalotiri, Romano cheese, and Parmesan cheese together in a small bowl. Sprinkle over the top of the casserole dish.
Place the casserole in the center of the oven and bake until the top is golden brown. This should take about 45 minutes to 1 hour.
**Please Note:  Recommended cook times for GreekBoston.com Greek recipes vary depending on elevation, environmental conditions, the cookware being used, and the nature of the oven or stove. Although we have given approximations, these don't always take into account your unique environment.
PLEASE NOTE: Greek recipes can be slightly different based on a variety of reasons, such as the region of Greece that the recipe is being made in. If you have seen this Greek recipe made another way, please send us an email to greekboston@worldwidegreeks.com and we will evaluate your suggestion. Thanks!
Categorized in: Authentic Greek Food Recipes, Greek Vegetable Recipes
This post was written by Greek Boston