Recipe for Kataifi With Caramel Sauce
Written by Greek Boston in Authentic Greek Food Recipes, Greek Desserts Recipes Comments Off on Recipe for Kataifi With Caramel Sauce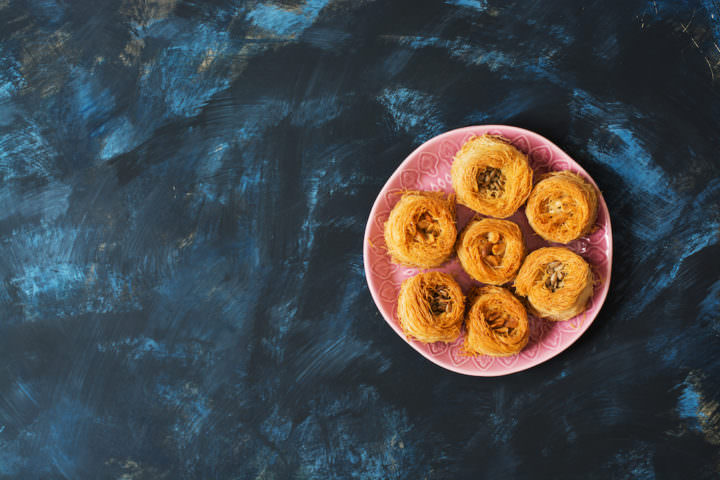 Kataifi is a popular Greek dessert that has a similar flavor as baklava. Instead of phyllo, however, the sweet and spicy nut mixture is wrapped with Kataifi pastry, which is a type of shredded wheat. Although sugar or honey syrup is the most popular way to finish it, caramel syrup is also a good choice.
Kataifi With Caramel Sauce Recipe Ingredients:
For the Kataifi:
3 pound package of Kataifi dough
4 cups almonds, walnuts, or pistachios, finely chopped
1 teaspoon cinnamon
2 large eggs, lightly scrambled
4 tablespoons granulated sugar
1 1/2 cups butter, melted
For the Caramel Sauce:
1 cup granulated sugar
6 tablespoons butter
1/2 cup heavy whipping cream
How to Make Kataifi With Caramel Sauce:
Preheat the oven to 350 Degrees Fahrenheit. Brush a baking dish with some of the melted butter or a little olive oil.
Place the nuts, cinnamon, eggs, and sugar into a bowl. Stir with a wooden spoon until well mixed.
Gently open the kataifi pastry with your fingers, lay it on a piece of wood or marble. put one tablespoonful of the nut mixture at one end. Roll the pastry into the shape of a tube.
Fold the pastry tight in the beginning to make a good seal on the ends. Place in the buttered baking dish and pour the rest of the butter into the pan. Roll the pastry around in the pan to make sure it is covered with butter.
Place the pan in the oven and bake the pastry until it is golden brown. This should take about 30 minutes.
While the pastry is baking, prepare the sauce. You can also skip this step and use prepackaged and prepared caramel sauce instead.
To make the sauce, heat the sugar in a saucepan over medium heat. Continue heating it until it gets slightly brown. Stir in the butter and let it melt. Whisk the mixture vigorously as the butter melts. Remove the pan from the heat and wait a few seconds. Slowly whisk in the cream until the mixture is well combined.
When the pastry is finished baking, remove it from the oven and let it rest for about ten minutes. Spoon the caramel sauce over the pastry after it is done resting.
**Recommended cook times for GreekBoston.com Greek recipes vary depending on elevation, environmental conditions, the cookware being used, and the nature of the oven or stove. Although we have given approximations, these don't always take into account your unique environment.
PLEASE NOTE: Greek recipes can be slightly different based on a variety of reasons, such as the region of Greece that the recipe is being made in. If you have seen this Greek recipe made another way, please send us an email to greekboston@worldwidegreeks.com and we will evaluate your suggestion. Thanks!
Categorized in: Authentic Greek Food Recipes, Greek Desserts Recipes
This post was written by Greek Boston