Recipe for Greek Style Marinated Artichokes
Written by Greek Boston in Authentic Greek Food Recipes, Greek Vegetable Recipes Comments Off on Recipe for Greek Style Marinated Artichokes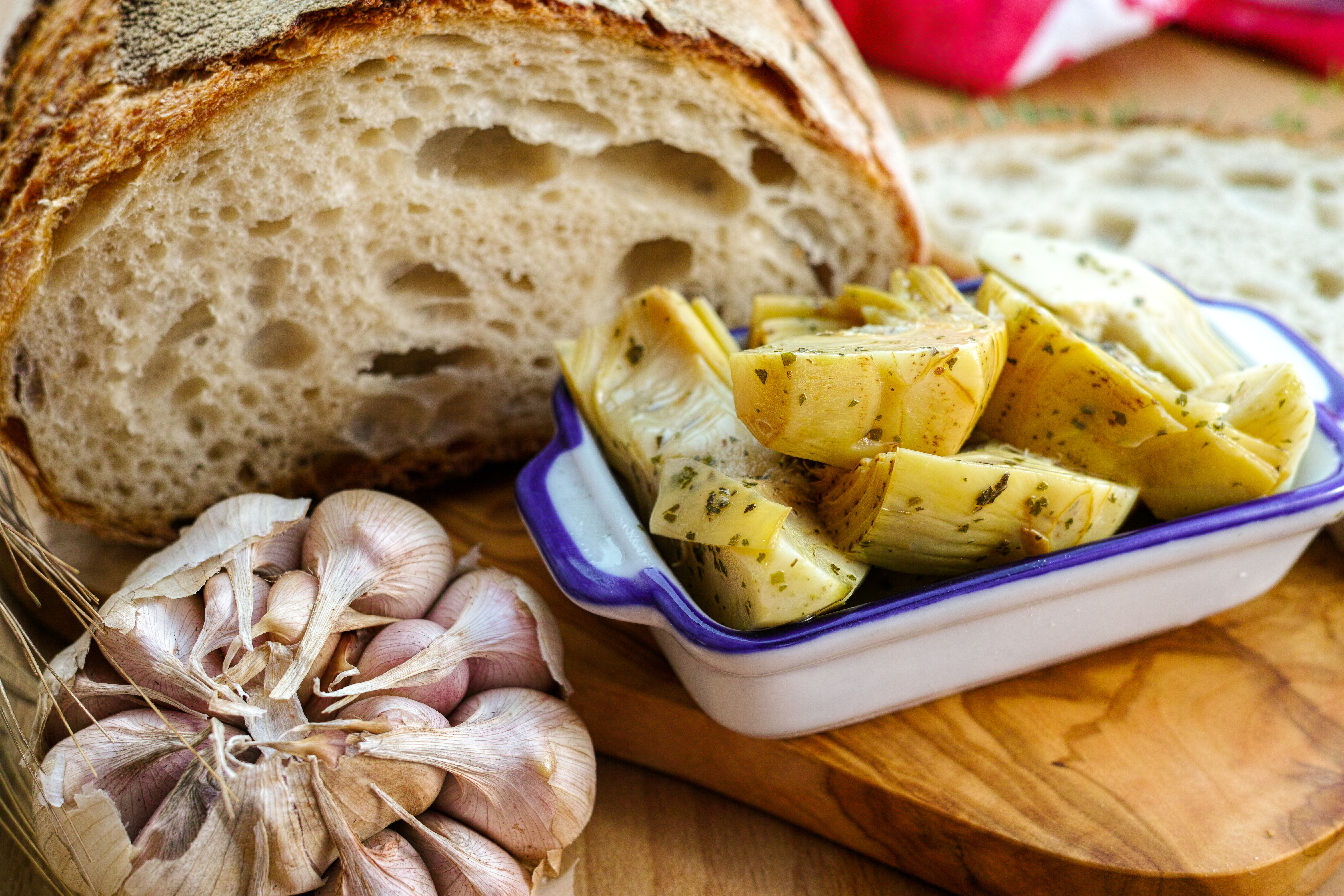 This dish, which is common on the island of Tinos, prepares artichokes using a marinade made of lemon, garlic, and other spices. This dish can be eaten on its own or as a side dish with meats such as lamb, chicken, and pork. It also makes a great part of any meze spread.
Greek Style Marinated Artichokes (Aginares Me Lemoni Ke Skordo) Recipe Ingredients:
1 1/2 quarts cold water
2 lemons, quartered
1/3 cup lemon juice
20 baby artichokes, with stems if possible
1/2 cup Greek olive oil
8 scallions, sliced thin
4 cloves garlic, peeled and minced
1 1/2 cups dry white wine
1 cup fresh, chopped dill or 1/4 cup dried dill leaves (optional)
Salt and pepper, to taste
Instructions to Make Greek Marinated Artichokes:
Add the water to a large bowl and squeeze the juice from the lemons in the water. Set aside the lemon quarters – don't discard them. Clean the artichokes by removing the first two or three levels of leaves. Rub the surface of each of the areas where you cut away the leaves with the lemon quarters to prevent these areas from turning brown.
Remove the choke from each of the artichokes using a sharp paring knife. Place each of the artichokes in the bowl filled with water and lemon juice after they're cleaned.
Add 1/4 cup of the oil to a large, deep skillet. Set the heat to medium and add the scallions. Saute the scallions for 2-3 minutes or so until they're soft. Add the garlic and saute for another minute. Add the artichokes, wine, the rest of the olive oil, and the water from the artichoke bowl.
Bring the water to a bowl and then reduce the heat to low to let it simmer for about ten minutes. Artichokes should be nearly soft when they're done. At this point, add half of the optional dill, 3 tablespoons of lemon juice, and salt and pepper. Adjust the flavors at this point, adding more lemon as needed. You'll want to taste the lemon juice without overpowering the artichokes.
Remove the skillet from the heat and let the artichokes cool in the pan. Sprinkle the remaining dill over the artichokes after they cool. If you decided to skip the dill, you don't need to do this. You can just serve them as is. Store in the refrigerator for up to a week after they've cooled to room temperature if you're not going to eat them right away.
PLEASE NOTE: Greek recipes can be slightly different based on a variety of reasons, such as the region of Greece that the recipe is being made in. If you have seen this Greek recipe made another way, please send us an email to greekboston@worldwidegreeks.com and we will evaluate your suggestion. Thanks!
Categorized in: Authentic Greek Food Recipes, Greek Vegetable Recipes
This post was written by Greek Boston