Recipe for Souvlakia – Greek Style Meat on Skewers
Written by Greek Boston in Authentic Greek Food Recipes, Greek Style Meat Recipes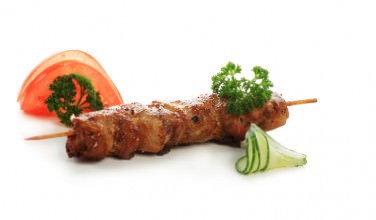 Souvlakia is a popular Greek fast food. It can be made with any combination of meats and vegetables, and the most commonly used meat in Greece and Cyprus is pork, although chicken and lamb are also used. Souvlaki is attested in Greece since antiquity, and was even referenced by Homer. This souvlaki recipe calls for grilled lamb, but you can add your favorite vegetables to add even more flavors.
Grilled Lamb Skewers Recipe Ingredients:
1 leg of lamb, without the bone
1/2 cup olive oil
Juice of 1 lemon
1 teaspoon oregano
Salt and pepper, to taste
Instructions on How to Prepare Greek Skewered Meat (Souvlaki):
Cut lamb into 1-inch cubes and thread on metal skewers.
Add the oil, lemon juice, oregano, salt, pepper to a medium bowl and add the lamb, stirring each piece to coat. Cover with plastic wrap and refrigerate for about 1 hour to let the lamb marinate.
Prepare the grill. If it's a gas grill, set it at medium heat. If it's a charcoal grill, wait until the coals are glowing slightly, but not burning with large flames.
Place the meat on the grill to cook. Turn the lamb once halfway through the cooking process after about 8 minutes on the grill. Remove from the grill and sprinkle with more oregano, to garnish.
Serve with pilaf or fried potatoes and tomato salad.
PLEASE NOTE: Greek recipes can be slightly different based on a variety of reasons, such as the region of Greece that the recipe is being made in. If you have seen this Greek recipe made another way, please send us an email to greekboston@worldwidegreeks.com and we will evaluate your suggestion. Thanks!
Categorized in: Authentic Greek Food Recipes, Greek Style Meat Recipes
This post was written by Greek Boston