Recipe for Vasilopita Greek New Year's Cake
Written by Greek Boston in Authentic Greek Food Recipes, Greek New Year Traditions, Greek Pastry and Greek Cake Recipes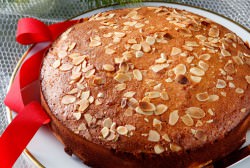 Vasilopita is a New Year's Day cake in Greece, which contains a hidden coin or trinket, which gives good luck to the lucky diner who finds it. On New Year's Day Greek families cut the vasilopita to bless their house and bring good luck for the New Year.  Ef̱tychisméno to néo étos! –Happy New Year!
Vasilopita (Greek New Year's Bread/Cake) Ingredients:
1 cup butter, softened to room temperature
2 cups granulated sugar
1 teaspoon orange zest (optional)
5 large eggs
2 tablespoons water or freshly squeezed orange juice
2 teaspoons vanilla extract
3 cups all-purpose flour
1 teaspoon ground mahleb or nutmeg (use nutmeg if you can't find Mahleb)
1 teaspoon baking powder
1/2 cup slivered almonds
2 tablespoons sesame seeds
1 coin (gold coin is best)
Instructions to Prepare Vasilopita:
Preheat the oven to 325 Degrees Fahrenheit.
Make sure the butter is softened to room temperature. Add the butter and granulated sugar to a large bowl and beat on medium speed using an electric mixer until well combined. Add the orange zest (if using) and beat on low speed until mixed in.
Separate 3 of the eggs and add the yokes one at a time, beating on medium speed into the butter as you do. Add the two whole eggs one at a time and beat those into the mixture. Add the vanilla and water and beat until well combined. Set aside the 3 egg whites.
Sift the flour, optional mahleb, and baking powder together into a large bowl. Slowly add the dry ingredients to the butter mixture, beating on low speed until well combined.
Add the 3 egg whites to a medium bowl and whip vigorously using a whisk until they're foamy. Fold the egg whites into the batter using a rubber spatula.
Spray a 10 x 4 tube pan with cooking spray and pour the batter into the pan. Add the coin to the batter and distribute batter evenly into the pan using a rubber spatula. Sprinkle the almonds and sesame seeds onto the top of the batter.
Place the pan in the center of the oven and bake for approximately 70 minutes, or until the top is golden brown and a toothpick inserted into the center comes out clean.
**Please Note:  Recommended cook times for GreekBoston.com Greek recipes vary depending on elevation, environmental conditions, the cookware being used, and the nature of the oven or stove. Although we have given approximations, these don't always take into account your unique environment.
PLEASE NOTE: Greek recipes can be slightly different based on a variety of reasons, such as the region of Greece that the recipe is being made in. If you have seen this Greek recipe made another way, please send us an email to greekboston@worldwidegreeks.com and we will evaluate your suggestion. Thanks!
Categorized in: Authentic Greek Food Recipes, Greek New Year Traditions, Greek Pastry and Greek Cake Recipes
This post was written by Greek Boston