Recipe for Greek Style Chicken with Okra
Written by Greek Boston in Authentic Greek Food Recipes, Greek Style Chicken Recipes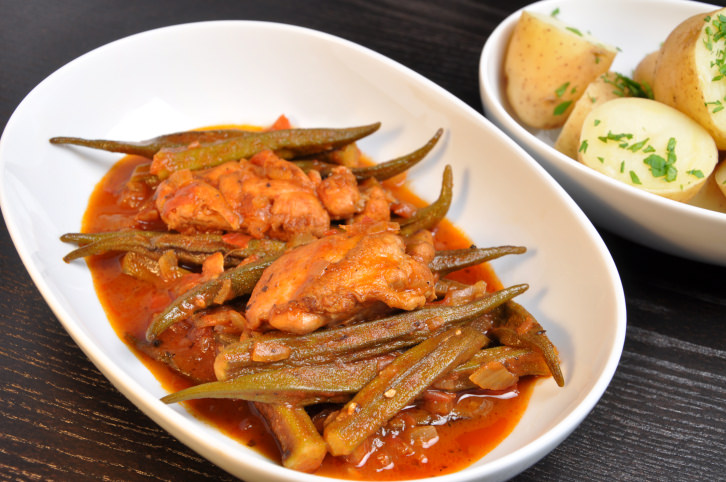 Okra holds a special place on the Greek table, and is one of the best loved of all the summer vegetables.
Greek Style Chicken with Okra (Kotopoulo me Bamies) Recipe Ingredients:
1lb 10oz. of chicken
2lbs 12oz. of okra
3/4 cup butter
1 medium onion
3/4 kilo (1lb.10oz.) tomatoes
Salt
Pepper
Instructions to Make Greek Chicken With Okra:
Wash the okra in a pot of water. Clean them by cutting off the stem ends, taking care not to cut into the flesh of the okra. After cleaning them, place in layers in a baking dish; sprinkle them with fine salt and vinegar.
Clean and wash the chickens, cut them in pieces, salt and pepper and drain completely.
Chop the onion.
Put butter in the pot to brown.
Sauté well the chicken pieces, a few at a time, then the onion, in the hot butter. Put all the chicken pieces in a pot and add strained tomatoes.
Once they have begun to cook, add two cups of water and let simmer for about half an hour.
Add the okra, cover the pot and let cook until no liquid remains, only the butter.
During the cooking the only concern is that the pot doesn't go dry, therefore, if necessary, add water from time to time.
Note: If desired, you can fry the okra first. In this case, let the meal cook for only three quarters to one hour, until only the sauce remains, no liquid since the fried okra cooks faster and doesn't require so much water.
PLEASE NOTE: Greek recipes can be slightly different based on a variety of reasons, such as the region of Greece that the recipe is being made in. If you have seen this Greek recipe made another way, please send us an email to greekboston@worldwidegreeks.com and we will evaluate your suggestion. Thanks!
Categorized in: Authentic Greek Food Recipes, Greek Style Chicken Recipes
This post was written by Greek Boston