Recipe for Horiatiki – Greek Village Salad
Written by GreekBoston.com in Authentic Greek Food Recipes, Greek Salads Recipes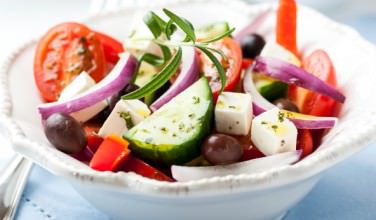 The traditional Greek salad, this salad is a true classic. Traditional Greek salad is made with pieces of tomatoes, sliced cucumbers, onion, feta cheese, and Kalamata olives. Horiatiki is also typically seasoned with salt and oregano. In America, most Greek salads come with Greek dressing, but the traditional horiatiki is just simple olive oil.
Greek Peasant Salad Ingredients:
3 tomatoes cut into wedges
1 sliced cucumber
1 Sliced onion
2 green peppers cut into rings
6 tablespoons olive oil
2 tablespoons vinegar
Salt
Pepper
1/3 lb. feta cheese
2 dozen black olives
Chopped or crumbled dried oregano or parsley
Directions to Prepare Greek Village Salad:
Place the tomatoes, cucumber, onion and peppers in a large salad bowl.
Shake together the olive oil, vinegar, salt and pepper in a covered Mason jar.
Pour the dressing over the salad.
Cut the feta cheese in squared and place on top of the salad. Add the olives and sprinkle with the parsley or oregano.
Categorized in: Authentic Greek Food Recipes, Greek Salads Recipes
This post was written by GreekBoston.com
Like this article? Please share below: