Recipe for Greek Style Pie Crust
Written by Greek Boston in Authentic Greek Food Recipes, Greek Pie and Pita Recipes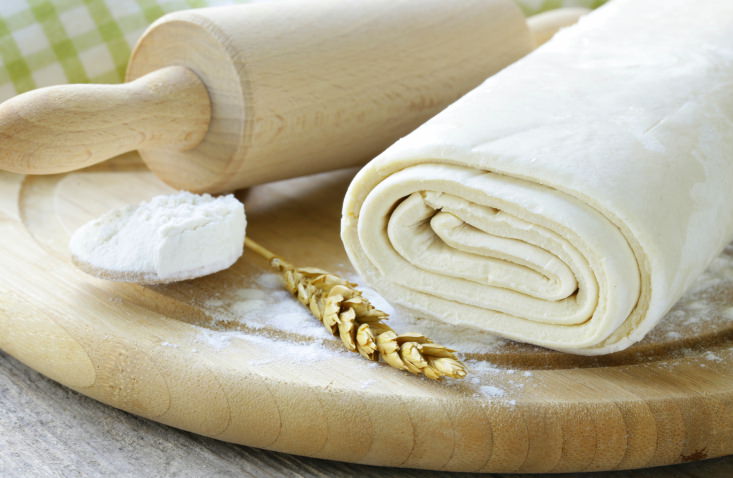 If you want to make your own Greek piecrust from scratch, instead of buying pre-made phyllo dough, here is the basic recipe.
Greek Style Pie Crust (Zimi Yia Pites) Recipe Ingredients:
4 cups flour
1 teaspoon salt
1 teaspoon cream of tartar
1 1/2 cup or shortening margarine
1 cup soda water
1/2 cup flour
How to Make Greek Pie Crust:
Sift flour with salt and cream of tartar.
Using a pastry blender or 2 knives cut in the margarine coarsely or until particles are about the size of a pea.
Sprinkle over soda water, 1 tablespoon at a time.
With a fork press the flour particles together using only enough soda water to hold the pastry together.
Press dough lightly with the fingers and wrap in waxed paper. Chill for about 1 hour.
Roll pastry into an oblong 1/8-inch thick, dot surface with the butter and sprinkle with flour.
Roll the dough in the same way as you would if you were making a Swiss Roll.
Roll out again into an oblong and fold in sides to make 3 layers.
Fold in ends the same way, making 9 layers in all.
Wrap in waxed paper and chill in the refrigerator.
When ready to use, roll out into a thick sheet about 1/8 inch thick. However, you should use the dough within a few days because it dries out.
PLEASE NOTE: Greek recipes can be slightly different based on a variety of reasons, such as the region of Greece that the recipe is being made in. If you have seen this Greek recipe made another way, please send us an email to greekboston@worldwidegreeks.com and we will evaluate your suggestion. Thanks!
Categorized in: Authentic Greek Food Recipes, Greek Pie and Pita Recipes
This post was written by Greek Boston