Greek Olives List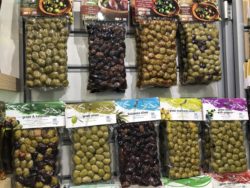 Greece produces some of the best olives in the world. Greek olives are produced all over Greece and are both eaten and used to produce olive oil.
Varietals of olives differ depending on the region of Greece. Olives also differ depending on when they are picked from their trees. The Greek people have been utilizing the olive tree for thousands of years. 
Greek olives, including Greek olive oil, are no only popular in Greece, but in Europe, the United States, and throughout the world. 
Read about the many types of Greek olives to enjoy during your next meal or for snacking!