About the Greek Olive Nafplion
Written by Greek Boston in Greek Olives List Comments Off on About the Greek Olive Nafplion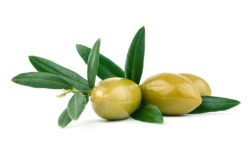 Nafplion Greek olives are grown in Nafplion, specifically in the valley of Argos, in the eastern Peloponnese. These olives are small and light green. They have a crunchy and firm texture. They are slightly nutty and mildly smoky. Harvested beginning in October, Nafplion Greek olives are typically used as table olives.
Nafplion Greek olives are split prior to brining to allow the spices to penetrate. They are cured naturally with salt. They are generally sold in brine, oil, and oregano or in brine with lemon slices and peppers. The olives have a slighty sour and salty taste.
Nafplion Greek olives are not well-known outside of Greece, but you can purchase them online and if you're lucky enough to live in a city with a Greek store, you might be able to find them there. These olives are considered a delicacy that go well with dinners and salads. You can add these tasty olives to a pasta salad with feta cheese, a Greek village salad, and chicken fillets with eggplant. In Nafplion, you may find Nafplion Greek olives used as part of kebabs. Nafplion olive oil is a great addition to salads.
Type of Greek Olive
Nafplion Greek olives are small, light green olives with a firm and crunchy texture.
Where Nafplion Greek Olives are Produced
Nafplion Greek olives are produced in Nafplion, specifically in the valley of Argos, where they are harvested beginning in October.
Nafplion Greek Olive Flavor Description
Nafplion Greek olives have a sour and salty taste to them. They are often sold in lemon slices and peppers or oregano, oil, and brine, which adds to their delicious flavor. They are firm and crunchy olives. Their taste can also be described as being nutty with a slightly smokey flavor.
Facts About Nafplion Greek Olive
Nafplion Greek olives have been a staple in many cuisines since ancient times.
According to Greek mythology, the olive tree was a gift from the goddess Athena to the people of Athens.
Nafplion Greek olives are also known as Megaritikh.
These olives are named for where they grow.
Though not a well-known olive outside of Greece, you can purchase them to try in your own home no matter where you live.
Green olives, such as Nafplion Greek olives, are picked before they ripen.
Production of Nafplion olives are limited each year.
Nafplion olives are cracked and cured naturally with salt
In Nafplio, you can take an olive oil tour where you can walk the olive groves, collect olives, and produce your own olive oil.
Since ancient times, Nafplion Greek olives have been used for their fat and oil content, used in culinary recipes and cosmetics.
Categorized in: Greek Olives List
This post was written by Greek Boston