About the Greek Olive Koroneiki
Written by Greek Boston in Greek Olives List Comments Off on About the Greek Olive Koroneiki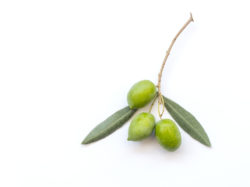 Koroneiki olives are grown throughout Greece, but mainly in the south Peloponnese and soem areas of Crete. The olive gets its name from Koroni, a town located in Messinia. The Koroneiki tree has flourished in the country for over 3,000 years and the olives it produces are considered the "queen of olives." This olive is harvested solely for the purpose of making olive oil. Koroneiki Greek olives are harvested when they are still green, in November and December.
The olives are bitter and don't make for good snacking. The Koroneiki Greek olives are light green to dark purple in color. The oil that is made from Koroneiki olives pairs well with salads, fish, chicken, pork, roasted vegetables, feta cheese, and just about any Greek dish. It's an oil that pairs especially well with chicken and lamb dishes that feature oregano and lemon. Koroneiki Greek olive oil also makes a good dipping oil.
Koroneiki olive oil is velvety with a smooth taste. The oil produced with Koroneiki Greek olives has one of the highest polyphenol content that can be found. Polyphenols are antioxidants that help to reduce the risk of cancers, heart disease, and other diseases. Thanks to this high polyphenol content, Koroneiki olive oil also has a longer shelf life than many other olive oils.
Type of Greek Olive
Koroneiki Greek olives are known for being aromatic. These olives are light green to dark purple in color. The Koroneiki olive is small and shaped like a tear drop.
Where Koroneiki Greek Olives Are Produced
Koroneiki Greek olives are produced throughout Greece, but mainly in the south Peloponnese and areas of Crete.
Koroneiki Greek Olive Flavor Description
The Koroneiki Greek olive has the aroma of herbs and other vegetation that are in the area while it grows. The Koroneiki olive can be bitter, which is why it is mainly used in the production of olive oil. Koroneiki olive oil is pleasant and a bit peppery. Other descriptions used to define its flavor include herbaceous and pear-like.
Facts About Koroneiki Greek Olive
Koroneiki olives are well-known around the world for being a top choice when producing olive oil.
In addition to being grown in Greece, the Koroneiki olive is also cultivated in Australia, the United States, New Zealand, and France to name a few.
Koroneiki olive trees account for approximately 50 – 60% of the acreage in Greece.
Koroneiki olives are suitable for super-high density growing systems, which is why they can be grown throughout the world.
Koroneiki olive oil has a shelf life of up to one year after the date of purchase.
The Koroneiki olive has grown for more than 3,000 years.
The Koroneiki olive tree is drought-resistant.
Categorized in: Greek Olives List
This post was written by Greek Boston