About the Greek Olive Tsakistes
Written by Greek Boston in Greek Olives List Comments Off on About the Greek Olive Tsakistes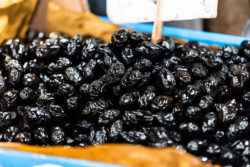 Also known as "cracked olives," Greek Tsakistes olives are grown primarily in the Attica region of Greece and belong to the Megaritiki variety of olives. The name Tsakistes means "cracked," which refers to their skin. Tsakistes olives are harvested when green. They are generally cured as a green olive.
One favorite way to flavor the olives is with lemon wedges and garlic. The traditional way of processing Tsakistes Greek olives gives them a fresh and fruity taste with the aroma of lemon with a firm flesh. Curing Tsakistes olives is especially popular on the island of Crete.
To cure the olives one needs raw olives, water, salt, lemon, and Greek olive oil. The process involves cracking the olives gently with a knife or bottom of a glass and then placing them in an airtight container. The brine is made by boiling the water and salt and then letting it cool.
Lemon juice is then added to the mixture and poured over the olives. Lemon juice helps to bring out the natural flavor of the olives. Olive oil is then drizzled over the olives and brine and the container covered and placed in a cool, dry spot for six weeks. The brine solution should cover the olives. Of course, Tsakistes Greek olives can be bought ready to eat.
Tsakistes Greek olives pair nicely with cheese, potato salad, and bean salad. They make a great addition to a cheese board. Tsakistes olives can even be baked in bread. If you want a quick and tasty treat, they are great to eat on their own. Tsakistes Greek olives also pair nicely with capers and anchovies. If you're in the mood for wine with your Tsakistes olives, try a wine such as Sauvignon Blanc.
Type of Greek Olive
Tsakistes Greek olives are cracked green olives with wrinkled skin and firm flesh.
Where Tsakistes Greek Olives are Produced
Tsakistes Greek olives are grown in the Attica region of Greece.
Tsakistes Greek Olive Flavor Description
Tsakistes Greek olives taste fresh and of fruits, lemon, and garlic.
Facts About Tsakistes Greek Olive
In many Greek homes, you may find a jar of Tsakistes Greek olives marinating in the fridge.
Tsakistes olives are especially popular in Cyprus.
Traditionally, a stone is used to crack the Tsakistes olives, but a knife or the bottom of a glass will do.
Soaking Tsakistes Greek olives in clean water for about a week will remove their bitterness.
Tsakistes olives weigh between 3 and 5 grams.
The word tsakistes means "cracked" in Greek.
Tsakistes Greek olives are usually marinated with lemon and garlic.
Categorized in: Greek Olives List
This post was written by Greek Boston