Recipe for Greek Style Artichokes with Olive Oil
Written by Greek Boston in Authentic Greek Food Recipes, Greek Orthodox Fasting Lenten Recipes, Greek Vegan Food Recipes, Greek Vegetable Recipes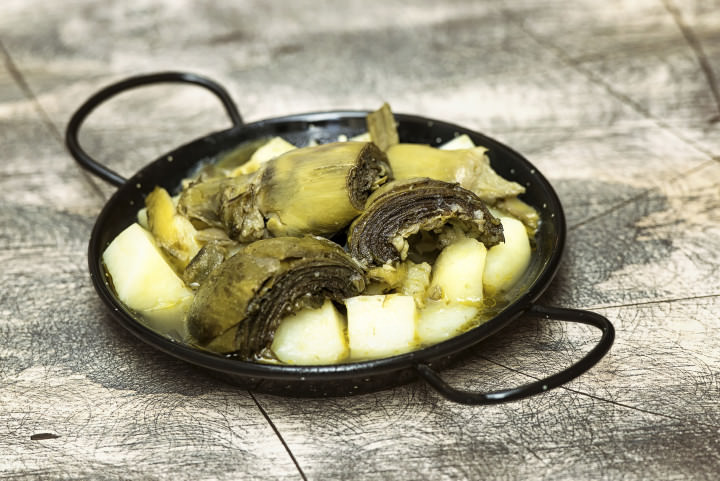 Plaki is Greek term used to describe a dish that is baked in the oven with olive oil and vegetables. This artichoke plaki recipe can be served as a vegetarian stew for a main dish, or as a side dish for your meat-eating diners!
Greek Style Artichokes with Olive Oil (Aginares A La Polita) Recipe Ingredients:
6 large artichokes
Lemon
Salt
3 spring onion, chopped onion
12 very small onions
2 sliced carrots
12 very small potatoes
2 tablespoons flour
1 cup olive oil
Salt
Pepper
Instructions to Prepare Greek Style Artichokes:
Remove outer leaves of artichokes until tender ones remain and cut off 1-inch from the top. Also remove choke from the center and peel the base all around.
Place cleaned artichokes in salted water with lemon juice added to prevent discoloration.
Put the spring onions and whole onions in a flat saucepan. Add carrots, artichokes and potatoes. Pour over the olive oil, the juice of a lemon and flour diluted in 1 cup water. Sprinkle with chopped dill or parsley, salt and pepper.
Add enough hot water to barely cover the vegetables.
Bring to boil, cover and simmer for 1 hour or bake (covered) in a moderate oven for 1 1/2 hours, until tender.
Serve artichokes with the other vegetables on a serving dish and sprinkle with dill or parsley.
** This recipe contains olive oil, which isn't permitted during a strict fast. If adhering to a strict fast, omit the olive oil.
PLEASE NOTE: Greek recipes can be slightly different based on a variety of reasons, such as the region of Greece that the recipe is being made in. If you have seen this Greek recipe made another way, please send us an email to greekboston@worldwidegreeks.com and we will evaluate your suggestion. Thanks!
Categorized in: Authentic Greek Food Recipes, Greek Orthodox Fasting Lenten Recipes, Greek Vegan Food Recipes, Greek Vegetable Recipes
This post was written by Greek Boston