Recipe for Greek Style Fried Eggplant
Written by GreekBoston.com in Authentic Greek Food Recipes, Greek Orthodox Fasting Lenten Recipes, Greek Vegan Food Recipes, Greek Vegetable Recipes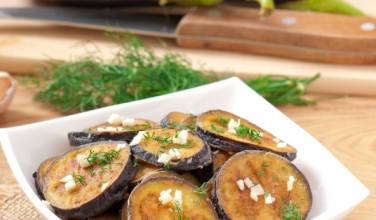 Eggplant is a favorite in Greek cooking. This fried eggplant recipe is simple and easy but you can spice it up with your favorite seasonings to make it your own!
Greek Style Fried Eggplant (Melitzanes Tiganites) Recipe Ingredients:
Eggplant, small and round
Salt
Flour (use gluten-free if following a gluten-free diet)
Olive oil for frying (about 1/2 cup)
Directions to Make Fried Eggplant:
Cut green end off eggplant, slice thinly, sprinkle with salt and set aside for an hour.
Rinse in cold water and then drain the eggplant pieces in a colander.
Add olive oil to a deep skillet and set the heat on medium. Dip eggplant slices into flour and fry until the slices are golden brown.
Drain on absorbent paper and sprinkle with salt.
Serve plain, with tomato sauce, garlic sauce (skorthalia) or tzatziki.
** This recipe contains olive oil, so this recipe won't be suited for a strict fast.
Categorized in: Authentic Greek Food Recipes, Greek Orthodox Fasting Lenten Recipes, Greek Vegan Food Recipes, Greek Vegetable Recipes
This post was written by GreekBoston.com
Like this article? Please share below: