Recipe for Greek Style Boiled Greens
Written by Greek Boston in Authentic Greek Food Recipes, Greek Orthodox Fasting Lenten Recipes, Greek Vegan Food Recipes, Greek Vegetable Recipes Comments Off on Recipe for Greek Style Boiled Greens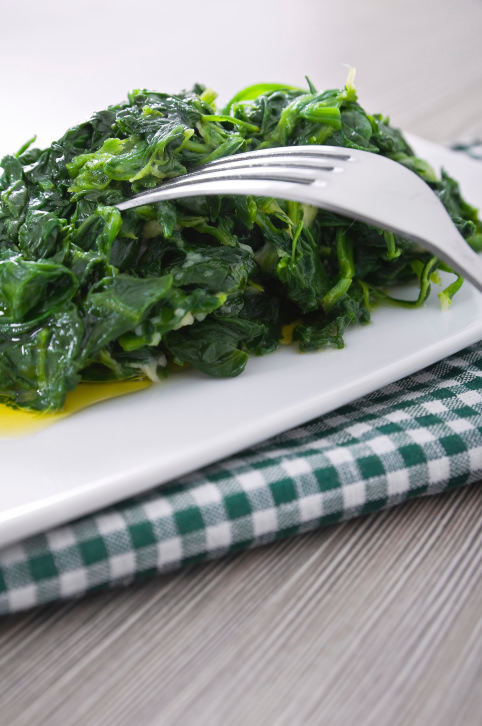 In Greece, horta, or boiled greens, are staple foods. People make them in bag batches and keep them in the refrigerator to have on hand. The greens are typically eaten with meals or served cold as a light snack.
Greek Style Boiled Greens (Horta Vrasta) Recipe Ingredients:
3 pounds mixed greens, like endive, chicory, dandelion and spinach
2 cups of water, for boiling
1 tablespoon white vinegar (optional)
Olive oil, for seasoning
Lemon juice, for seasoning
Salt, for seasoning
Instructions to Make Greek Boiled Greens:
Clean the greens by trimming away any hard stems. Wash them under cold water to remove any dirt or sand. Shake dry and add to a large stockpot. Pour 2 cups of cold water over the greens and sprinkle vinegar over the top if the greens are particularly bitter. If the greens are mild, as is the case with spinach, you don't need to use the vinegar.
Place the lid on the pot and set the heat to medium high. Bring the water to a boil and shut the heat off. Leave the pot on the same burner for ten minutes before removing from the heat. Transfer the greens to a serving bowl and drizzle olive oil, lemon juice, and salt over the post (to taste). For a typical batch, you'll need about 1/4-cup olive oil, the juice of half a lemon, and about 1/2 teaspoon of salt. However, there's no need to measure it – just season the greens, as you like. This horta can be served hot or cold.
PLEASE NOTE: Greek recipes can be slightly different based on a variety of reasons, such as the region of Greece that the recipe is being made in. If you have seen this Greek recipe made another way, please send us an email to greekboston@worldwidegreeks.com and we will evaluate your suggestion. Thanks!
Categorized in: Authentic Greek Food Recipes, Greek Orthodox Fasting Lenten Recipes, Greek Vegan Food Recipes, Greek Vegetable Recipes
This post was written by Greek Boston