About Iraklia, Greece
Iraklia is an island that is part of the Naxos and Lesser Cyclades group. The island of Iraklia is located between Naxos and Ios. The island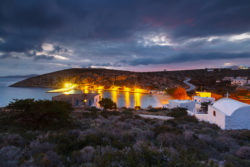 features rocky coasts with scenic bays and small cliffs with flora. The main trees on the island include: wild olive, fig, and carob. There are also Italian cypresses, oleanders, and date palms. There are some small olive and almond groves on the island of Iraklia as well. The coastal zone has sea daffodils and spiny chicory. The island is also abundant in wild greens. There are narrow paths for hiking all around the island. The highest peak on the island of Iraklia is Papas at 418 meters. There are two villages on the island: Agios Georgios in the north where the port is located and Panagia, the capital is in the center.
While the history of the island of Iraklia is known to go back to ancient times, there isn't much in the way of details. In the area of Livadi, excavations have found remains from the 3rd millenium BC as well as a castle dating back to historical times.
During the Venetian era, the island belonged to the administration of Naxos. Iraklia was a shelter for pirates during medieval times. This pirate activity did not allow people to live permanently on the island of Iraklia. When the Greek Navy confronted the pirates. People were free to move to the island.
On the island of Iraklia, there are no taxis, cars, or buses. You can rent a scooter or a donkey and of course walking is a good option since the island is small.
Administrative Region for Iraklia Island, Greece
South Aegean
Area of Iraklia Island, Greece
17.795 km2 (6.871 sq mi)
Population of Iraklia Island, Greece
141
Top Attractions in Iraklia Island, Greece
Cave of Saint John – This cave is especially known for its stalactites and stalactites. The cave is located at the southern side of the island. The Cave of Saint John can be reached via a hiking path, but it will take about an hour and isn't the easiest of hikes.
Iraklia Port Beach – There are small, sandy coves around the port that provide nice swimming areas. The water here is warm and clean. The shore is sandy with some rocky areas.
Church of Panagia – This church is dedicated to the Entry of Virgin Mary in the Temple. A large festival on August 15 is dedicated to Virgin Mary. The church is in Panagia.
Church of Agios Georgios – This is the most important church in Iraklia. It is found close to the port of Iraklia. This church celebrates with a festival to honor the saint on April 23.
Livadi Beach – This is the most well-known beach in Iraklia. The long and sandy beach can be accessed by foot just 1.5 km from the port. Clean water provides the perfect place to swim.
BELOW ARE INTERESTING ARTICLES ABOUT IRAKLIA, GREECE: