About Kalymnos, Greece
Kalymnos is an island in the southeastern Aegean Sea and is part of the Dodecanese group of islands. The island of Kalymnos is mostly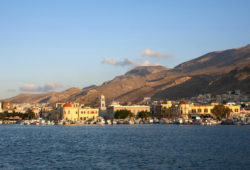 mountainous. The coast is irregular with many sheltered coves. There are also some springs to be found on the island, including one thermal spring. The soil on the island is lime-stoned based, but the valley contains a compact bank of volcanic tuff (a type of rock), which is the remains of an ancient volcano. The island has two fertile valleys,Vathys and Pothia , where olives and oranges grow. Earthquakes are quite common around the island of Kalymnos, which is caused by the nearby volcanoes.
Kalymnos is known as the "sponge-divers" island. Sponge diving is the oldest known form of original art. The purpose is to retrieve natural sponges for human use. Sponge diving has been a common occupation and main source of income for the island of Kalymnos. Sponge diving not only brought wealth to the island, but fame throughout the Mediterranean. The Kalymnisans would harvest sponges as close as Pserimos and as far as North Africa. Sponge week is an annual celebration that occurs the week after Easter to honour the "Kaylmnian gold."
The island of Kalymnos was originally inhabited by Carians. During antiquity, the island depended on Kos. During the Middle Ages, the island was under rule of the Byzantine Empire. During the 13th century, the Venetian Republic would use Kalymnos as a naval base. In 1310, Kalymnos came under control of the Knights og Rhodes. There was no Turkish immigration to Kalymnos as there was to Rhodes and Kos during the Ottoman period. In the 19th century, the Hellenistic Temple of Apollo was excavated by Charles Newton, a British archaeologist. Many finds would be made including epigraphic inscriptions, which are in the British Museum's collection.
Administrative Region for Kalymnos Island, Greece
South Aegean
Area of Kalymnos Island, Greece
134.5 km2 (51.9 sq mi)
Population of Kalymnos Island, Greece
16,179
Top Attractions in Kalymnos Island, Greece
Archaeological Museum of Kalymnos – Located in Pothia Town and housed in a 19th century mansion. Exhibits include a prehistoric collection with tools, ceramics, and statues. Also featured is traditional furniture.
Rock climbing school – If you're up for an adventure, rock climbing might be for you. Open to beginner and intermediate climbers. Enjoy the view from an entirely different and unique view.
Sponge Factory – Located in Pothia Town. You can learn about the tradition of sponge fishing on the island. Learn about the process of collecting and elaborating sponges.
Kantouni Beach – 5 km from Pothia. A long partly organized beach with crystal water and soft sand. This beach has mountains surrounding the coast.
Emporio Beach – 24 km northwest of Pothia. A family friendly and partly organized beach. The beach is calm with tourist facilities nearby.
Monastery of Agios Savvas – Located on a hill 2 km south of Pothia Town. This monastery is made of stone with rounded domes. The church is dedicated to Agios Savvas who is the patron saint of the island.
Chryssocheria Castle – Located on a hill above Pothia Town. Castle was built by the Knights of Saint John and is also known as the Citadel of the Knights. The castle was inhabited until the 18th century.
Folklore Museum – Located 1.5 km from Pothia Town. Museum was established by Mrs. Faneromeni Skylla who loved Kalymnos so much she wanted it to be showcases. Exhibits include bridal dresses, local costumes, housewares, pottery jugs, and much more.
Town Beach – Located within walking distance of Pothia Town and the harbour. The partly organized beach is pebbled and sandy with crystalline waters. Town Beach is close to restaurants, other amenities, and shops that sell sponges the island is so well-known for.
Lagouna Beach Vlychadia – 6 km southwest of Pothia. A family friendly beach with scuba diving and snorkeling available. Fish taverns and a snack bar are also on site.
BELOW ARE INTERESTING ARTICLES ABOUT KALYMNOS, GREECE: