Outdoor Sports You Can Enjoy in Kalymnos
Written by Greek Boston in About Kalymnos, Greece, Greek Travel Guide Comments Off on Outdoor Sports You Can Enjoy in Kalymnos
The island of Kalymnos is rich in natural beauty. Kalymnos features mountains, vertical rocks, steep slopes, volcanic valleys, underwater caves, beautiful beaches, and more. From a distance, the island appears to be a reddish-brown rock that emerges from the Aegean Sea.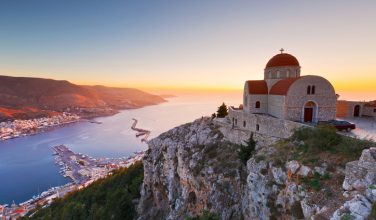 There is an airport in Kalymnos, but it is only active during the summer months. Flights from Athens (the only ones that go to Kalymnos) take about one hour. Ferries from Mastihari Kos go to Kalymnos 2 – 3 times a day and the ferries from Piraeus take the trip about three times a week.
The island of Kalymnos is a paradise for people who love the outdoors. Here's a look at what you can do while here:
Go Rock Climbing
Kalymnos has over 2500 climbing tracks, making is an ideal destination for rock climbers. Don't worry if you've never rock climbed before though. There are climbing courses available from certified instructors. You can even take advanced private lessons if you prefer one-on-one coaching. At the Kalymnos Adventure Center you can find people to climb with on the community board if you want to go with a group of fellow adventurers.
Many of the climbing routes are easily accessible via a hike or scooter and there are amenities around. You can also deep-water solo in Kalymnos. Deep-water soloing is a form of solo rock climbing that relies on the presence of water at the base of the climb to protect against injuries if the climber should fall.
Go Scuba Diving and Snorkeling
If you love being in the water and exploring what's under the water, you'll definitely want to do some scuba diving or snorkeling. Imagine swimming around and spotting beautiful fish, sea sponges, octopi, and even dolphins. Swim through caves and enjoy a very unique experience you can get anywhere else. The Kalymnos Diving Club leads wreck dives and night dives. They can take you snorkeling with dolphins. There is also kids diving, beginners diving, and experienced diving.
Go Caving
The island of Kalymnos is home to many caves that are ideal for exploring. One beautiful cave is called Kefalas, which is located near the city of Pothia. This cave has huge stalactite formations and is accessible via a short boat trip from Pothia or by way of a dirt road that starts in Pothia. Another cave is called Daskalio and it is known for its prehistoric and Neolithic findings. This cave is best for more experienced explorers. The Cave of the Nymphs is near Flaskas and used to be an ancient religious center. There is a small lake inside this cave along with stone carved stairs.
Go Hiking
The island of Kalymnos has a landscape that makes for perfect hiking conditions. One of the most popular hiking paths is The Italian Road. The Italian Road is a three-hour hike that goes from Pothia to Vathy. It is a stone path that offers views on both sides of the trail.
The island of Kalymnos is the perfect destination for anyone who loves outdoor adventures.
PLEASE NOTE: The Greek travel section at GreekBoston.com are not paid reviews. Our unbiased and informative travel articles are designed review the popular cities, islands and places in Greece. We are not always able to exactly match the photos to the destinations, but we do try to get close. However, we are not looking for photo submissions at this time. If you find something in a Greek travel article that is not accurate based on your personal experience, please send us an email to greekboston@worldwidegreeks.com and we will consider your suggestions. Thanks for reading the travel section at GreekBoston.com!
Categorized in: About Kalymnos, Greece, Greek Travel Guide
This post was written by Greek Boston
Share this Greek Travel Article: