About Koufonisia, Greece
Koufonisia is an island that was once part of the Cyclades group, but has been added to the municipality of Naxos and Lesser Cyclades. Koufonisia is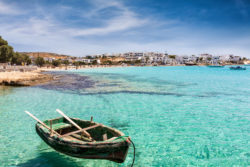 actually made up of three main islands: Koufonisi (or Pano Koufonisi), Kato Koufonisi, and Keros. Keros is an uninhabited island and a protected archaeological site. Pano Koufonisi is the most densely populated of the Cycladic island group. The main occupation is fishing and it has one of the biggest fishing fleets in all Greece.
The origin of the island's name may come from an ancient gulf between the island and Glaronisi, which was called Koufonisia. The full name was Koufos Limin, which means "lee port." A lee port is where ships can anchor. Another possible origin of the name is that it was chosen because of the island's many caves and sediments. Pano Koufonisi used to be known as "Fakousa" and Kato Koufonisi was known as "Pino."
Koufonisia has been inhabited since prehistoric times. Excavations in Epano mili provided evidence that dates back to the early years of Cycladic civilization. Excavations on the eastern shore found items dating to the Hellenistic and Roman times.
During the Axis Occupation of World War II, the island's residents migrated to Athens and other Greek islands to find work. They would board boats and a ship that left for Herclia every eight days. At this time, there was only one doctor in the entire Lesser Cyclades and he could not travel to Koufonisia when the weather poor.
Koufonisia follows the Cycladic architecture that is prevalent throughout the islands. The outside of houses and buildings are white, while the doors and windows are painted blue. Traditional homes in Koufonisia consist of three rooms: a living room, a kitchen, and a bedroom.
Administrative Region of Koufonisia Island, Greece
South Aegean
Area of Koufonisia Island, Greece
26.025 km2 (10.048 sq mi)
Population of Koufonisia Island, Greece
399
Top Attractions in Koufonisia Island, Greece
Altar of Prophitis Ilias – In this area, traces of a Byzantine church were uncovered. Two columns and a marble slab were uncovered. Today, you can see the ruins, icon of the prophet, and lamp that burns continuously.
Caves Before Pori Beach – On the way to Pori, rock formations can be found with beautiful blue water. People dive off these rocks and the area is perfect for taking photographs. View the Aegean Sea and surrounding islets.
Megali Ammos Beach – Just 200 meters from Chora. This is a clean and family friendly beach. Megali Ammos Beach is long with soft sand and exotic water.
Pori Beach – 3.5 km from Chora. A lovely beach with soft sand and crystal clear water. Pori Beach is secluded and nudist friendly.
Gala Beach – 4 km northeast of Chora. This is a unique looking beach as there is an open cave that connects to the sea. The beach is secluded and not organized.
BELOW ARE INTERESTING ARTICLES ABOUT KOUFONISIA, GREECE: