Greek Beach Vocabulary Words to Know
Written by Greek Boston in Learn How to Speak Basic Greek Comments Off on Greek Beach Vocabulary Words to Know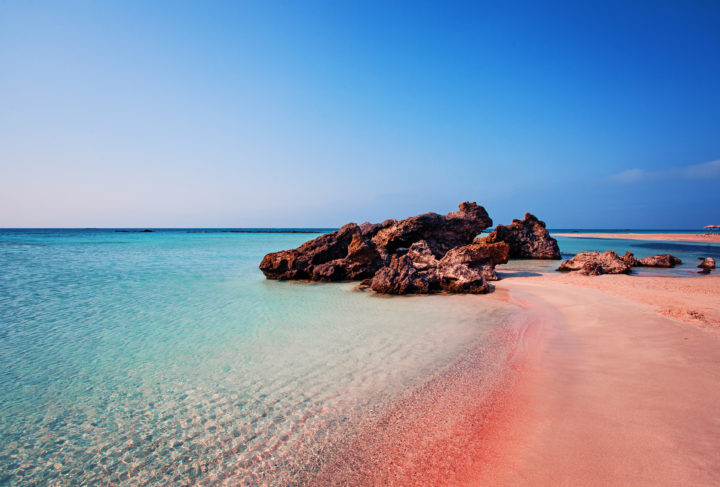 While in Greece, you'll no doubt want to spend time at the beach. You may want to practice your Greek language skills while you're there! Before you do that, you'll want to learn some Greek vocabulary words related to the beach.
Greek Beach Vocabulary Word List
Here's a look at the essential words you'll need to know. Pay attention to how some of the nouns are actually accompanied by adjectives, as is the case with "Red Swimsuit" and "Sandy Beach". This is to give you more of a feel for how to give your Greek language skills a bit more life.
Swimsuit – το μαγιό – to mayio
Red (black, blue, etc) Swimsuit – το κόκκινο (μαύρο, μπλε, etc) μαγιό – to kokkino (mavro, ble, etc)  mayio
Beach – η παραλία – I paralia
Sandy Beach – την αμμώδη παραλία – tin ammothi paralia
Ocean – ο ωκεανός – o okeanos
Mediterranean Sea – Η Μεσόγειος Θάλασσα – I mesayeeos thalassa
Sun – Ο ήλιος – o ilios
Sunglasses – τα γυαλιά Ηλιού – ta gyaliá Ilioú
Swimming – κολύμπι – kolimbi
Beach Towel – την πετσέτα παραλίας – tin peseta paralias
Seashell – το κοχύλι – to kohili
Beach Chair – την καρέκλα παραλία – tin karekla paralia
Sand Castle – το κάστρο άμμου – to castor ammoo
Suntan – το μαύρισμα – to mavrisma
Palm Tree – το φοίνικα – to finika
Life Guard – ο ναυαγοσώστης – o navagosóstis
Sunscreen – το αντηλιακό – to aftiliako
Bikini – το μπικίνι – to bikini
As you can see, there are some important words and phrases you'll need to know to enjoy the beach in Greece. You don't necessarily need to memorize these words but you should at least read the list over a few times so you can become familiar with them. As you practice them, you'll memorize them more and more.
---
The Learn Greek section on GreekBoston.com was written by Greeks to help people understand the conversational basics of the Greek language. This article is not a substitute for a professional Greek learning program, but a helpful resource for people wanting to learn simple communication in Greek.
Categorized in: Learn How to Speak Basic Greek
This post was written by Greek Boston