Greek Shopping Vocabulary Words to Know
Written by Greek Boston in Learn How to Speak Basic Greek Comments Off on Greek Shopping Vocabulary Words to Know
While visiting Greece, chances are pretty good that you'll want to go shopping! Whether buying souvenirs or browsing through the various shops and boutiques, you will find that knowing some Greek vocabulary words associated with shopping will be extremely helpful. Here's some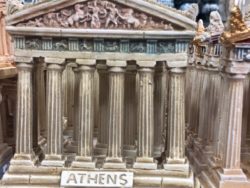 information that will help you have a successful shopping experience in Greece:
Etiquette Associated With Shopping
When shopping in Greece, there is some etiquette to keep in mind. When entering the shop, it's customary to greet the people working in the shop and smile. Even if you don't really need them to help you, they may sense that you aren't a local and want to talk to you about where you're from. If you develop a nice rapport with someone in a store, they could easily become a resource for you for the area. Sometimes the best recommendations for restaurants, sightseeing, beaches, etc come from those who work in the stores!
Greek Words for Shopping
Here are some Greek vocabulary words that you should know while shopping:
η αγορά – i agora – the market
ψωνίζω – psinizo – to shop, to go shopping
το φούρνο – to fourno – the bakery
το ζαχαροπλαστείο – to zaharoplasteio – the sweet shop
το σουπερμάρκετ – to supermarket – supermarket
το πολυκατάστημα – to polikatastima – the department store
το βιβλιοπωλείο – to vivliopoleio – the bookstore
το κοσμηματοπωλείο – to kasmimatopoleio – the jewelry store
ώρες λειτουργίας – ores leitourgias – opening hours
μπορώ να σε βοηθήσω – Boro na se voithiso – Can I help you?
θέλω να το αγοράσω αυτό – thelo na to agoraso auto – I want to buy this.
When you go to Greece, you might find that people do speak English in the stores, especially in the tourist areas. However, it is nice to learn enough Greek to help you have a successful shopping experience. Read through this list and memorize as many things as you can.
---
The Learn Greek section on GreekBoston.com was written by Greeks to help people understand the conversational basics of the Greek language. This article is not a substitute for a professional Greek learning program, but a helpful resource for people wanting to learn simple communication in Greek.
Categorized in: Learn How to Speak Basic Greek
This post was written by Greek Boston