Greek Vocabulary Words for Animals
Written by Greek Boston in Learn How to Speak Basic Greek Comments Off on Greek Vocabulary Words for Animals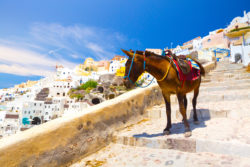 When learning a language, it makes sense that you'll want to learn how to say common, every day words. It's difficult to predict which words you'll need while working with the Greek language. However, it is a good idea to give yourself exposure to as many different types of words as possible.
One of the types of words you should know are how to say the different animals in Greek. This is especially important if you have pets and love to talk about animals! Here's more information on how to say some of the most common animals in the Greek language:
How to Say the Words for Animals in Greek:
Bear – η αρκουδα – i arkootha
Bird – το πουλί – to pooli
Cat – η γάτα – i gata
Chicken – το κοτόπουλο – to kotopoulo
Cow – η αγελάδα – i agelatha
Crow – το κοράκι – to koraki
Dog – ο σκύλος – o skilos
Donkey – ο γάιδαρος – o yetharos
Eagle – ο αετός – o aetos
Elephant – ο ελέφαντας – o elefantas
Giraffe – η καμηλοπάρδαλη – i kamiloparthala
Goat – η κατσίκα – i katsiki
Hawk – το γεράκι – to yeraki
Horse – το άλογο – to alogo
Lamb – το αρνί – to arni
Lion – το λιοντάρι – to liondari
Monkey – η μαϊμου – i maymoo
Mouse – το ποντίκι – to pondiki
Owl – η κουκουβάγια – I kookoovagia
Pig – το γουρούνι – to gourouni
Pigeon – το περιστέρι – to peristeri
Rabbit – το κουνέλι – to kooveli
Rat – ο αρουραίος – o arouraiois
Seagull – ο γλάρος – o glaros
Sheep – το προβατο – to provato
Snake – το φίδι – to fithi
Tiger – η τίγρης – I tigiris
Turkey – ο γάλος – o galos
Zebra – η ζέβρα – I zebra
It's true that you might not need all of these words. However, it is a good idea to at least become familiar with them. Read over this list a few times and then really work to memorize the words you suspect you might encounter on a regular basis.
---
The Learn Greek section on GreekBoston.com was written by Greeks to help people understand the conversational basics of the Greek language. This article is not a substitute for a professional Greek learning program, but a helpful resource for people wanting to learn simple communication in Greek.
Categorized in: Learn How to Speak Basic Greek
This post was written by Greek Boston