Vocabulary Words for Greek Independence Day
Written by Greek Boston in Learn How to Speak Basic Greek Comments Off on Vocabulary Words for Greek Independence Day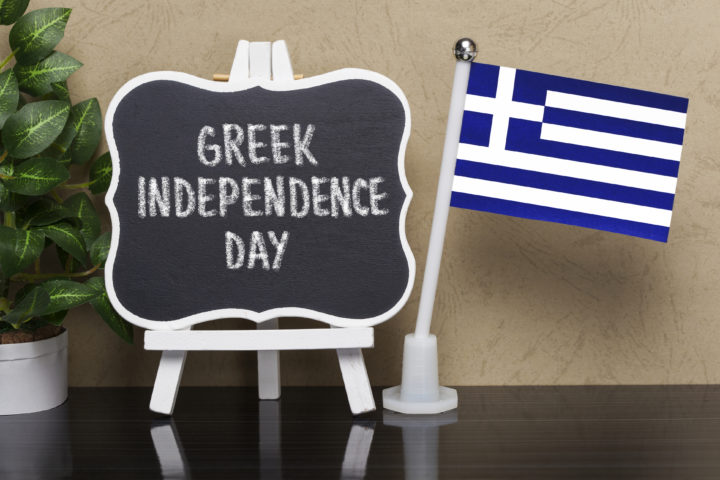 Greek Independence Day takes place each year on March 25th. This is the day when Greeks all over the world celebrate Greece's Independence from the Ottoman Empire. Typical celebrations include fireworks, parades, and parties. People throughout the world display the Greek flag an even wear white and blue in honor of the Greeks.
Instead of celebrate the official conclusion of the Greek War for Independence, which officially ended on July 21, 1832, Greek Independence Day occurs on March 25th, a symbolic day chosen to represent the beginning of the movement that eventually led the Greek people to their freedom.
Since this is such a major Greek holiday, it is a good idea to learn some vocabulary words associated with it. Here's a look at some of the most important words to know:
Greek Vocabulary Words for Independence Day:
Greek Independence Day – 25η Μαρτίου – ikosi pendi martiou  (This is one of the most commonly used name for the holiday in the Greek language)
Victory or Death – Νίκη ή θάνατος – Niki I Thanatos (This was the motto of the Greek War for Independence. When Mani joined the resistance in 1821, they said, "Νίκη ή θάνατος". The phrase caught on and it became the motto amongst the fighters.
Freedom or Death – 

Ελευθερία ή Θάνατος

– 

Eleftheria I Thanatos (This was another commonly used motto during the war)

Greek Revolution – Ελληνική επανάσταση – Ellinki epanastasi
Feast – πανηγύρι – paniyuri (There are plenty of feasts taking place on Greek Independence Day!)
Many Happy Returns! –  Χρόνια πολλά! – Chronia Polla (This is the phrase Greeks usually say to one another when they are celebrating something together. It is said on birthdays, name days, and holidays and it is definitely a common word that you will hear on Greek Independence Day).
Long Live Greece – ζήτω η Ελλάδα – Zito I Ellatha (This is another common phrase that is said during this holiday)
To properly celebrate Greek Independence, you should definitely learn at least some of these words! Chances are pretty good that you have heard them in the past, but now you will be able to use them with confidence.
Source:
Celebration of the Greek Revolution
---
The Learn Greek section on GreekBoston.com was written by Greeks to help people understand the conversational basics of the Greek language. This article is not a substitute for a professional Greek learning program, but a helpful resource for people wanting to learn simple communication in Greek.
Categorized in: Learn How to Speak Basic Greek
This post was written by Greek Boston