About Lindos, Greece
Lindos is a fishing village and an archaeological site on the island of Rhodes. Lindos is found on the east coast of the island approximately 50 km from the main town of Rhodes. The town is on a large bay that faces the fishing village and resort of Charaki.
Lindos was founded by the Dorians who arrived in around the 10th century BC. Its location made it a convenient spot for Greeks and Phoenicians to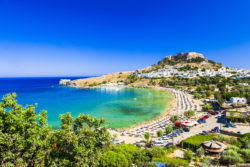 have meetings. By the 8th century BC, Lindos had become a major trading center. After Rhodes was established in the late 5th century BC, Lindos' importance began to decline.
From 1900 – 1914, excavations were carried out at Lindos. The acropolis site was excavated down to bedrock uncovering the foundations of all the buildings. The natural citadel was fortified by the Greeks, Romans, Byzantines, Knights of Saint John, and the Ottomans. The acropolis has views of the coastline and surrounding harbours. During the Italian occupation of the island from 1912 – 1945, extensive restoration was done on the Lindos acropolis. Unfortunately, the job was poorly done and was more harmful than helpful. The monumental staircase to the propylaea was rebuilt and the northeast side of the Temple of Athena was restored. Large surfaces were covered in concrete and blocks that were inscribed were moved from their locations and placed along restored walls. The methods by which much of the work was done did not take care to protect the remains. More recently work is being done under the supervision of the Greek Ministry of Culture to properly restore the ancient buildings.
Parts of the acropolis of Lindos that can be seen today include: the Doric Temple of Athena Lindia, the Hellenistic Staircase, the Greek Orthodox Church of Saint John, and the Propylaea of the Sanctuary.
Administrative Region For Lindos, Greece
South Aegean
Population of Lindos, Greece
3, 957
Top Attractions In Lindos, Greece
The Acropolis of Lindos – Perched above the town of Lindos. The Acropolis has roots in multiple parts of the island's history including: Ancient Greeks, Byzantines, the Knights of Saint John, and more. The acropolis has a wonderful view of the surrounding areas.
Beach of Lindos – Also known as Main Beach. This is a family friendly beach located east of the acropolis. Sandy beach with shallow water.
Pallas Beach – Located at the tip of the bay. This is an adult-oriented beach. Plenty of tavernas line Pallas Beach.
St. Paul's Bay – Just a 10 minute walk from town. St. Paul's Bay is located on the western side of the acropolis. A quiet beach with beautiful turquoise water.
The Ancient Theatre of Lindos – The theatre lies at the foot of the west rock at the acropolis. 19 rows of seats, many of them carved into rock. Today, it is mainly the rock carved portions of the theatre that are preserved.
BELOW ARE INTERESTING ARTICLES ABOUT LINDOS, GREECE: