About Mani, Greece
The Mani Peninsula is a geographical and cultural region in Greece. The capital cities of the Mani Peninsula are Areopoli and Gytheio. Mani is the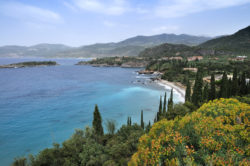 central peninsula of the three that extend south from the Peloponnese. The Mani Peninsula is mountainous. Until recently many of the villages were accessible only by sea. Fortunately there is now a narrow and winding road that makes some more accessible. Another was created decades ago for public buses of Piraeus (Mani Line). Mani is traditionally divided into three regions: Exo Mani, Kato Mani, and Mesa Mani. There is a fourth region named Vardounia, is sometimes included . In the past Vardounia served as a buffer between the Ottoman-Turkish controlled Evrotas Plains and Mani.
In many caves, including the Alepotrypa Cave, along the Mani coasts, Neolithic remains have been found. Some artifacts from the Mycenaean period have also been found. Around 1200 BC, the area was occupied by the Dorians and became a dependent of Sparta. When Spartan power came to an end in the 3rd century BC, Mani remained self-governing.
The Maniots claim descendancy from the ancient Dorians and Spartans, which they consider to be more "pure-blooded" Greeks. According to Maniots, after the Romans rook over Laconia, many Spartan citizens who were loyal to the Spartan laws of Lycurgus (a quasi-legendary lawgiver of Sparta) would go to the Spartan mountains of Mani rather than be in Achean or Roman service.
The people of the Mani Peninsula are very superstitious. The Maniots believe in demons, witches, ghosts, and vampires. In 1839, when Henry Herbert, the 3rd Earl of Carnarvon, was touring Mani, he came across a fresh egg on the side of the road and offered it to a Maniot soldier. The soldier declined the offer explaining that if a hag had enchanted it, he would have to marry her.
Top Attractions in Mani Peninsula, Greece
Ghost Village of Vathia – In Mani there is a village called Vathia. Vathia is a castle-village that will transport you into the past. The village was founded in the 1700s and by the early 1900s, it was being deserted.
Limeni Village – A lovely seaside village. Houses made of stone that are built on the sea of emerald waters. Traditional taverns also line the sea and provide wonderful food and views.
The Messeinian Mani – If you enjoy hiking as well as exploring beaches and coves, this hiking trail is for you. The trails are color-coded and for a more experienced hiker as it can get strenuous.
Diros Caves – Located south of Itylo Bay. The caves are a spectacular site. You explore these caves on a punt with a ferryman.
Kalogria Beach – A family friendly beach. This beach has white sand and crystal waters. Crowded during high season.
Stoupa Beach – Opposite the main walking road of Stoupa. An organized beach, perfect for families. Plenty of shops and restaurants around.
BELOW ARE INTERESTING ARTICLES ABOUT MANI, GREECE: