About Mathraki, Greece
Mathraki is an island in the Dipontia group in the Ionian Sea. Mathraki is a tiny island and the closest island to Corfu. The highest peak on the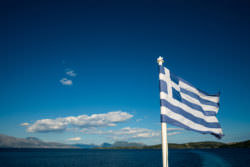 island of Mathraki is Merovigli at 157 meters. Chorio is the capital village of the island. It is on the southern side and surrounded by olive trees, cypresses, and pine trees. Bee-orchids also grow on the island. Wild herbs can be found as well.
There are no records or evidence of habitation on the island of Mathraki during the Ancient or Medieval times. Until the mid-19th century, the piracy and long distance from the mainland prevented people from settling on the island. Toward the end of the 19th century, the inhabitants of Othoni (another island in the Dipontia group) went to the islands of Ereikoussa and Mathraki to cultivate the olive trees. Within time, people were living there permanently on the island of Mathraki and building houses.
Comforts on the island are basic. Electricity only came to Mathraki Island in the 1970s and for the most part people go to Corfu for everyday needs and to see the doctor.
Administrative Region of Mathraki Island, Greece
Ionian Islands
Area of Mathraki Island, Greece
3.532 km2 (1.364 sq mi)
Population of Mathraki Island, Greece
329
Top Attractions in Mathraki Island, Greece
Chapel of Saint Nicolas – On Diaplo inlet in Plakes, this small church is dedicated to Saint Nicolas. There is a legend that says that Saint Nicolas petrified a pirate ship that attempted to devastate Mathraki and it was turned into three islets next to Diaplo.
Portello Beach – This beach is large with a sandy shore and crystal water. This is the only sandy beach in Mathraki. It can be reached by car or foot.
Fyki Beach – A large bay consisting of rock formations extending into the sea. The peddled beach features clear water, perfect for swimming. Fyki can be reached by foot from Plakes or by boat.
Plakes Village – Plakes is the main port of Mathraki. There are some waterfront taverns around the natural bay. There is greenery surrounding Plakes creating a lovely ambiance.
Chorio Village – This is the main village of Mathraki. The village was constructed on the slopes of the mountainside, providing views of the sea and other coasts. Taverns can be found in the area as well as some rooms available for rent.
Kontrakas Beach – Located on the western side of Mathraki. This small rocky cove is surrounded by greenery. It is a pebbled beach that is secluded and not organized.
BELOW ARE INTERESTING ARTICLES ABOUT MATHRAKI, GREECE: