Top Best Things to Do in Corfu, Greece
Written by Greek Boston in About Corfu Greece, About Mathraki, Greece, Greek Travel Guide Comments Off on Top Best Things to Do in Corfu, Greece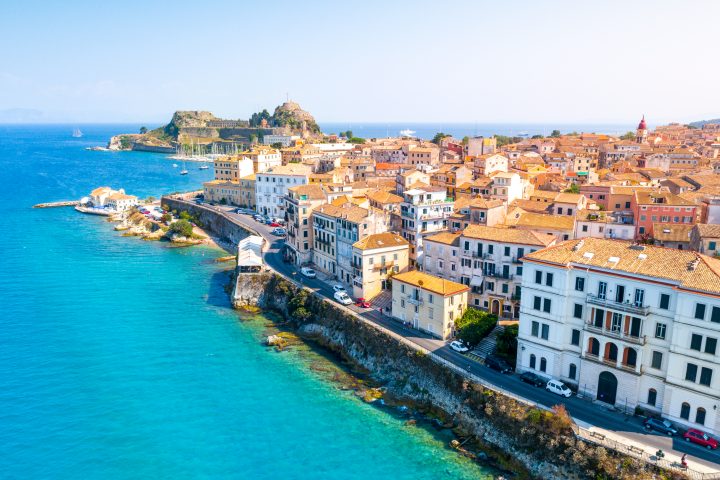 When it comes to island destinations in Greece, it is really hard to go wrong if you're headed to Corfu! This island has it all – gorgeous scenery, nightlife, and a rich history that leaves people coming back for more. You could easily spend a lot of time here and never run out of things to do.
While you are here, of course, you will want to maximize your time, no matter how long your stay here is. Here is a look at some of the top things to do while in Corfu:
If you want a great spot to take some really great photos in Corfu, look no further than Kanoni and Mouse Island! Kanoni's views are unbeatable here, surrounded by the shimmering blue ocean and the impressive 17th-century church, Panagia Vlacherna. A 5 minute boat ride will take you to Mouse Island, tiny but filled with luscious green and an even more impressive history. It is said that the island was the ship of Ulysses.
This palace once captured the admiration of Austrian Empress Elizabeth, and now enthralls locals and tourists alike. Encircled by Greek legend Achilles statues, this beautiful structure has many wondrous sights to behold, both inside and out. Just below rests the stunning Corfu coast that adds additional beauty to the atmosphere.
Spianada Square is a central sightseeing spot that can't be missed. In the center lies a Venetian fountain representing the island's influence from its territorial rulers over the years, including France, Britain, and Italy. Even more impressive, this square is believed to the largest in all of the Balkans.
Art lovers will find an endless amount of sights to see and activities to partake in at the Municipal Gallery. The gallery's collection mostly consists of 19th-century paintings and carvings and holds many seminars, workshops, and lectures for a more immersive experience. What makes the gallery even more special to the island is that many of the gallery's collected pieces was donated by local families and artists.
Mon Repos palace acts as a perfect demonstration of Corfu's lengthy and unique history. The palace has belonged to many different owners, including British rulers, the Greek government, and the former Greek royal family. It has seen many names and faces over the years, but now remains a museum open to tourists. Inside the museum include Ionian artifacts and valuables.
For a truly awe-inspiring experience, a visit to Angelokastro Castle is a must. Its history dates back to the 13th century when it was constructed to act as a defense against pirates. Towering on a cliff that overlooks the ocean, this view is sure to love all who see it breathless.
The ruins of Preithia are perfect for fans of the spooky. Previous inhabitants of the city eventually left to move to the coasts, leaving their houses, stores, and other central buildings behind to settle in the dust. The buildings that are still kept up include the eight churches where the locals continue to worship. In fact, today, only a few older people live in the town, giving the city an atmosphere of mystery and intrigue.
You don't need to be an Ioannis Kapodistrias buff to enjoy the Kapodistrias Museum. Kapodistrias was the first Governor of Greece, and the museum is dedicated to his memory. In addition to providing artifacts and information about his life, the attraction has stunning views of the Corfu countryside and an idyllic garden to enjoy a delicious cup of coffee in.
Fans of nature, history buffs and art lovers will all enjoy a trip to Corfu, Greece. Just a short ferry trip from Athens or an easy plane ride, it's a destination you won't want to miss!
PLEASE NOTE: The Greek travel section at GreekBoston.com are not paid reviews. Our unbiased and informative travel articles are designed review the popular cities, islands and places in Greece. We are not always able to exactly match the photos to the destinations, but we do try to get close. However, we are not looking for photo submissions at this time. If you find something in a Greek travel article that is not accurate based on your personal experience, please send us an email to greekboston@worldwidegreeks.com and we will consider your suggestions. Thanks for reading the travel section at GreekBoston.com!
Categorized in: About Corfu Greece, About Mathraki, Greece, Greek Travel Guide
This post was written by Greek Boston
Share this Greek Travel Article: