Preveli Beach is a Must See on the Island of Crete
Written by GreekBoston.com in About Crete Greece, Greek Travel Guide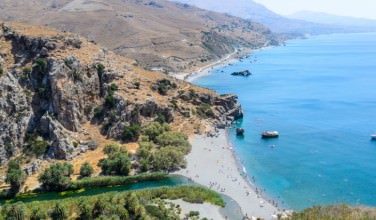 The island of Crete, the largest and most populous of the Greek islands, is known for its beautiful landscape that includes mountains and stunning palm tree lined beaches that are reminiscent of the beaches of the Caribbean. Perhaps the most well known of all of the beaches of Crete is Preveli Beach.
Preveli Beach, also known as Palm Beach, is one of Greece's most instantly recognizable stretches of sand. It sits at the mouth of the Kourtaliotiko Gorge from where the river Megalopotamos slices across it before emptying into the Libyan Sea. The palm-lined riverbanks have clear freshwater pools for swimming.
What makes Prevali Beach unique is that it lies under the magnificent Moni Prevali Cretan monastery that is perched high above the beach. The Moni Prevali monastery was a center of anti-Ottoman resistance and was burned by the Turks in 1866. Later, it served as a shelter for Allied soldiers after the battle of Crete in WWII before the soldiers were evacuated to Egypt. Today, the monastery features a monument of two bronze sculptures of a gun toting priest and a British soldier overlooking the cliffs. This monument commemorates the role of the monastery during wartime. The Moni Prevali also features a small museum that houses many valuable objects.
In addition to the Moni Prevali monastery and Prevali Beach, there are also other beaches in the area. Triopetra is a big beach that is names after the three giant rocks that jut out into the sea. It is divided by a headland into "Little Triopetra" and "Big Triopetra". "Little Triopetra" is made up of submerged sand shelves which means that it's not an ideal spot for swimming but there are other attractions that can be found there including Taverna Pavlos which serves fresh fish and salads that are prepared with home grown organic produce. Additional tavernas can be found at "Big Triopetra" which is a much more ideal spot for swimming.
Agios Pavlos is another beach that is located in the area between Plakias and Agia Galini on the island of Crete. It's a picture perfect sandy crescent surrounded by rugged cliffs. Small hotels and tavernas can be found in the area. The main cove can become quite busy during the summer months, but there are plenty of areas within the coves to escape the crowds. The beaches behind the headland to the west are less crowded and the farthest cove is a popular spot for nudists. The beauty and tranquility of the area has made it a popular destination for yoga retreats. Visitors can stay at the Agios Pavlos Hotel that features waterfront rooms and modern apartments.
Categorized in: About Crete Greece, Greek Travel Guide
This post was written by GreekBoston.com
Like this article? Please share below: