Tour the Ancient Theater in Lemnos
Written by Greek Boston in About Lemnos, Greece, Greek Travel Guide Comments Off on Tour the Ancient Theater in Lemnos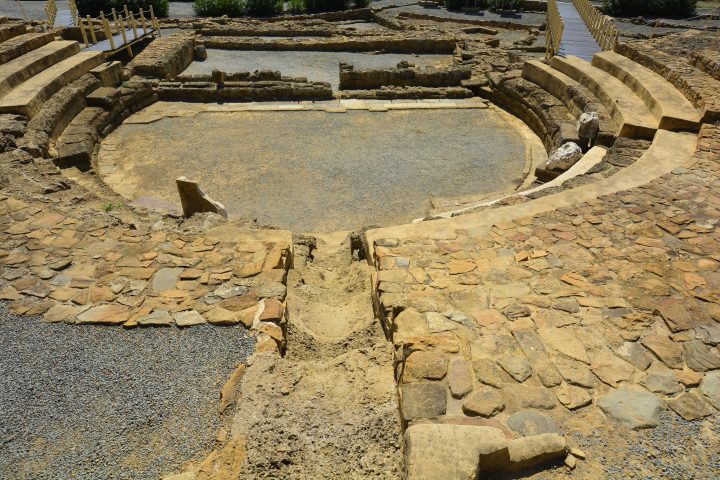 If you are looking for a vacation this summer to look back on and have fond memories of, you can't go wrong with visiting one of the oldest theaters in the world. The ancient theater on Lemnos plays host to open-air theatre festivals throughout the year — during which you will be able to immerse yourself in Ancient Greek history.
About the Ancient Theater on Lemnos
The Ancient Theater on Lemnos (Ancient Greek) is an ancient Greek theatre in Lemnos, Greece. It was built in the 4th century BC, and it is one of the oldest theatres in Greece that is still preserved until today. It is located on the northeastern part of the island, at the foot of Mount Dikti. It was dedicated to Dionysos, god of wine and fertility.
The theatre was built in the 4th century BC with a capacity of about 5,000 spectators. Its dimensions are about 120 m across and 60 m deep (east-west), making it one of the largest theatres in antiquity. The stage building measures about 20×14 m, and it was built from limestone blocks. It has two tiers of seats divided into three sections, each by two diazomata (steps).
What to Do at the Ancient Theater on Lemnos
There are many things to do when visiting this historical landmark, including taking pictures, enjoying the view, or even hiking up Mount Ida. However, if you're looking for something more laid back and relaxing, here is what you can do in the nearby attraction.
Wine Tasting
If you're looking for something fun to do with your friends or family, then we should definitely recommend trying some local wine and cheese pairings at sunset. If you've never tried pairing wine with cheese before, then this will be a great experience for everyone involved. You should try out some local cheeses like Halloumi cheese or Feta cheese that go well with dry white wines like Chardonnay or Sauvignon Blancs.
Pottery
One of the most interesting things to do when visiting Lemnos is pottery making. You can take a class at the pottery workshop. Here, you will learn how to make handmade clay pots using traditional methods that have been passed down through generations of Greek women for centuries.
Getting to the Ancient Theater on Lemnos
There are a few options for getting to Getting to the Ancient Theater on Lemnos:
Boat
The island is connected to Piraeus by ferry, which takes about 30 minutes. There are also daily ferries between Lemnos and Lesvos, and Chios.
Bus
The bus station is located in Myrina, where you can buy tickets for buses that go to all parts of the island. If you want, you can also rent a car at one of the many car rental companies in Myrina or Nea Koutali.
If you love history so much that you want to experience its better taste, then I suggest that you visit the Ancient Theater of Lemnos. The place is a bit old, but for such a long period of time, it has been saved and preserved. You will feel like having discovered a true hidden treasure.
PLEASE NOTE: The Greek travel section at GreekBoston.com are not paid reviews. Our unbiased and informative travel articles are designed review the popular cities, islands and places in Greece. We are not always able to exactly match the photos to the destinations, but we do try to get close. However, we are not looking for photo submissions at this time. If you find something in a Greek travel article that is not accurate based on your personal experience, please send us an email to greekboston@worldwidegreeks.com and we will consider your suggestions. Thanks for reading the travel section at GreekBoston.com!
Categorized in: About Lemnos, Greece, Greek Travel Guide
This post was written by Greek Boston
Share this Greek Travel Article: