Visit Angelokastro Castle in Corfu
Written by GreekBoston.com in About Corfu Greece, Greek Travel Guide Comments Off on Visit Angelokastro Castle in Corfu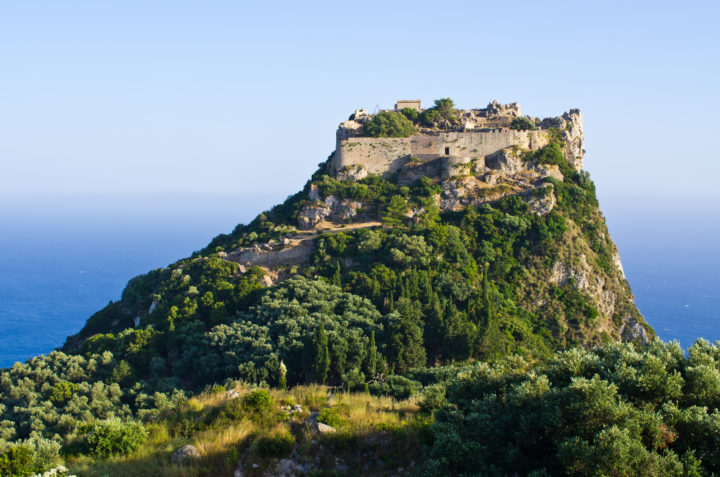 Corfu is a Greek island that possesses beauty and history. The island is home to a number of castles that will impress you and take you back in time. One of the most important castles on the island of Corfu is Angelokastro Castle. Here's what you should know about Angelokastro Castle.
About Angelokastro Castle
Thought to date back to the 13th century, Angelokastro Castle is located at the highest point of Corfu near Krini. Angelokastro Castle is known for the domed gate at its entrance. The castle was built to help protect the residents from the Venetians and pirates from Africa. It is believed that an ancient emperor was looking for a high rock to build a fortress where any pirates approaching could be seen. During his search, he came across Angelokastro Castle.
Angelokastro Castle, also known as Angel Castle, was part of the defensive triangle that included Kassiopi and Gardiki. It is thought to be one of the most important Byzantine castles in Greece. The most significant remains of the castle are the chambers and the church. The church at Angelokastro Castle is dedicated to angels Michael and Gabriel. The church was constructed in a cave.
Visit Angelokastro Castle
The climb to Angelokastro Castle is worth exploring what's left of the important site as well as enjoying the view. The climb can be steep, so don't rush. You will want to head up in the morning to avoid the midday sun and heat. There may also be fewer people the earlier you go as well. You can easily spend a couple of hours exploring the remains of the castle and take in the view of the sea and surrounding landscape.
At the entrance, before you begin your climb up to the site of the castle, you will find a restaurant and local produce for sale. You can find some unique flavoured and delicious jams. It's important to note that Angelokastro Castle is closed on Wednesdays. There is a small admission fee, but parking is free if you drive.
You can also take this opportunity to explore the old village of Krini. The village features old traditional houses and a tiny, charming square that serves as a roundabout. There is one taverna in the village of Krini. Nearby is the village of Makrades where there are more places to eat. Near Makrades is the start of a donkey path. This cobbled footpath follows the clifftop leading to Agios Georgios.
Getting to the island of Corfu can be done by plane or by ferry. The airport of Corfu is located near Corfu Town. Ferries to Corfu come from Patra and Igoumenitsa, but flying is the quicker and more convenient option especially if you're coming from Athens, Thessaloniki, or travelling internationally during the summer months. Once on the island of Corfu, renting a car offers the most flexible way to explore, but you can also take a taxi or bus.
Categorized in: About Corfu Greece, Greek Travel Guide
This post was written by GreekBoston.com
Like this article? Please share below: