About Meteora, Greece
Meteora is a rock foundation in Central Greece. It is the host to one of the largest complexes of Eastern Orthodox monasteries. There were originally 24 monasteries built, six of which remain today. They were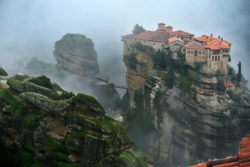 built on natural pillars and rounded boulders. Meteora is located near the town of Kalambaka. Kalambake is at the northwestern edge of the Plain of Thessaly near the Pindus Mountains and Pineios River. The name Meteora means "lofty" and "elevated," and historically relates to the word meteor.
By the early 12th century, an initial monastic state called the Skete of Stagoi had formed and by the end of the century, ascetic community made its way to Meteora. In 1344, Athanasios Koinovitis brought a group of followers from Mount Athos to Meteora. He founded the Meteoron Monastery from 1356 – 1372 on the Brock Rock. Meteora was the perfect place for the monks to practice as the only access was via a ladder they could raise when they wanted. They were completely protected from political upheaval here. In 1517, Theophanes built the monastery of Varlaam. It is said that this monastery housed the shoulder-blade of St. Andrew and the finger of St. John. Until the 17th century, the main way of getting supplies and goods to the monasteries was via a ladder and large nets.
In 1921, Queen Marie of Romania (also known as Queen Marie of Edinburgh) was the first woman to ever visit the monasteries at Meteora. In the 1920s, access to the monasteries would be made a little easier by the cutting of steps into the rock. This would enable access via a bridge from a plateau nearby.
Meteora has served as inspiration in everything from video games to movies. 1981's James Bond Movie For Your Eyes Only was partially filmed at the Monastery of Holy Trinity. The monasteries were also a filming location for the movie Sky Riders.
Top Attractions of Meteora, Greece
Moni Agiou Nikolaou – Built in the 15th century. Features frescoes painted by monk Theophanes Strelizas. This monastery is closest to Kastraki.
Moni Megalou Meteorou – Known as the Great Meteora Monastery. This monastery was built on the highest rock in the 14th century. It features frescos entitled "Martyrdom of Saints," which depicts the persecution of Christians by the Romans.
Moni Varlaam – Features a museum that includes a rope basket that once hauled up monks and provisions. Late-Byzantine frescos are worth exploring.
Moni Agias Varvara Rousanou – Access to this bridge is gained via a small wooden bridge. A steep structure, which is the home to about 15 nuns.
Moni Agias Triados – A more remote-feeling location of this monastery. Amazing views of th surrounding area. This is the monastery where For Your Eyes Only was filmed.
Moni Agiou Stefanou – Nuns sell religious souvenirs here as well as DVDs. There are exhibits, which includes an embroidered picture of Christ.
Village of Kalambaka – Located near Meteora. Full of rich history and breathtaking beauty. You will find the Hellenic Culture Museum, the Natural History of Meteora & Mushroom Museum, and the Church of the Assumption of the Virgin Mary in Kalambaka. Taverns, pubs, and restaurants can also be found.
BELOW ARE INTERESTING ARTICLES ABOUT METEORA, GREECE: