About Nafplio, Greece
Nafplio is a seaport town located in the Peloponnese (a peninsula) that expands up the hills toward the north end of the Argolic Gulf. In Classical Antiquity, the town was known as Nauplia in Attic Greek. Attic Greek is a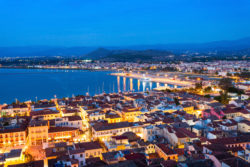 dialect of the ancient city of Athens. During the Middle Ages, a few different variations of the name were used in Byzantine Greek. During the late Middle Ages and early modern period when the town was under Venetian rule, it was known in Italian as Napoli di Romania.
Nafplio has been inhabited since the Mycenaean period (1600 – 1100 BC), though there have been times when the city was mostly deserted. During the early Middle Ages (500 – 600 AD), the city had become smaller, consisting of only a castle and a small settlement. During the 11th century AD, the Byzantines would fortify the lower part of the city.
During Venetian rule, the town would repel Ottoman attacks and sieges twice. The first was attempted by Mehmed the Conqueror during the Ottoman – Venetian War of 1463 – 1479. The second was attempted by Suleiman the Magnificent. The city did surrender to the Ottomans in 1540. They would rename the town Mora Yenisehri. In 1685, the Venetians took back Nafplio and declared it the capital of their "Kingdom of Morea." They would go on to strengthen the city by building the castle of Palamidi. This would be the last major construction of the Venetian empire overseas.
The castle of Bourtzi is located in the middle of the harbour in Nafplio. It's fortification was completed by the Venetians in 1473. In 1822, it was captured by Greek troops and served as a fortress until 1865. It would then become the residence for executioners of convicts from the castle of Palamidi. From 1930 – 1970, the castle of Bourtzi was a hotel.
Administrative Region for Nafplio, Greece
Peloponnese
Area of Nafplio, Greece
390.2 km2 (150.7 sq mi)
Population of Nafplio, Greece
33, 356
Top Attractions In Nafplio, Greece
Palamidi Fortress – Located on a hill above Nafplio. Built in the early 19th century. Features eight bastions, each self-contained so that if one was breached the others could be defended individually.
Church of Agios Spyridon – Located in the old town. Church was built in 1702. Features a bell tower, Byzantine icons, and paintings around the walls.
Bourtzi Fortress – Located at the entrance of the port. Built in 1471. Entrances are located at the north and south and there are three floors connected by moveable stairs.
Tolo Psili Ammos Beach – 10 km southeast of Nafplio. An organized and family friendly beach. Features soft sand, crystal clear water, and water sports.
War Museum – Located in town. Was originally built to house the first military academy. Displays weapons used by soldiers of the historic town.
Archaeological Museum – Located in Nafplio. Museum is located in a renovated Venetian mansion built in 1715. Features items found during excavations in Argolida.
Karathona Beach – 6 km south of Nafplio. Partly organized and family friendly. This beach features water sports and tourist facilities.
BELOW ARE INTERESTING ARTICLES ABOUT NAFPLIO, GREECE: