Orthodox Church Going Green on Religious New Year
Written by Andrew Athanasiou in Greek New Year Traditions Comments Off on Orthodox Church Going Green on Religious New Year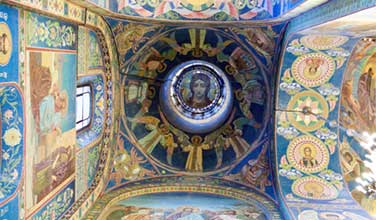 September 1st is New Year's Day for the Orthodox Church. This is a tradition that stems from the Roman Empire, but in modern times this is a day of reflection and renewal for the next upcoming year. These are probably some of the major reasons why September 1st has been inaugurated as the day for the Protection of the Environment. On this beginning of the New Year, the Church thinks back to the first day of Creation and to our initial relationship shown through Adam and Eve. We were created to tend the garden and to be stewards of the Earth. Especially now, in our modern time of ecological uncertainty and fear, we must set aside time for prayer for the world and action for its betterment.
Though not that wide known throughout Orthodoxy, this is gaining popularity due to some Internet publicity, Ecumenical Patriarch Bartholomew of Constantinople is seen as the "Green Patriarch."  He gained this title after being the first religious leader to publicly speak out against harming the environment.  Though touched on previously by the late Ecumenical Patriarch Demetrios, Bartholomew has really become a global force for a call to integrate ecology, economics and faith.
Demetrius, in 1989, had established September 1st as this special day to pray for creation.  Bartholomew has continued this tradition and has shown that he is even more willing to put himself on the line for the Environment. He has said, "to commit a crime against the natural world is a sin.  For human beings to destroy the biological diversity of God's Creation, for human beings to contaminate the Earth's waters, it's land, its air, and its life. All of these are sins."  It is important to remember the Orthodox understanding of the word sin, which is to "miss the mark."  We have missed the mark when it comes to protecting the gifts in which God has blessed us with.
Humans were created to be Priests of Creation.  Humans are what we call psychosomatic beings, meaning that we are made up of both soul and body.  Alone a soul is not a human and alone a body is not a human, but rather the synthesis of these two constitutes the human.  As being both spiritual and physical, we have been set aside with the task of bringing all of creation together in the worship of God.
Very often, when people think of being religious or praying, most often people think of a way of thinking or a way of feeling emotions, but more often than not we forget the body and our physical reality.  The Orthodox Church is full of physical things starting with the Eucharist, something you can touch and feel.  There is blessing of oil, water, bread, wine, wheat, fruit, meat and so on.  We also use our body in our worship, whether it is crossing ourselves, bowing our heads, kneeling, eating, smelling, feeling, and kissing.  We have no fear of creation, we are part of creation and we are called to embrace it.  This is why it is so important for the Orthodox Church to have this strong ecological standpoint.
Categorized in: Greek New Year Traditions
This post was written by Andrew Athanasiou
Like this article? Please share below: