History of Greek Orthodox Saint George Day: April 23
Written by Andrew Athanasiou in Greek Orthodox Religious Information Comments Off on History of Greek Orthodox Saint George Day: April 23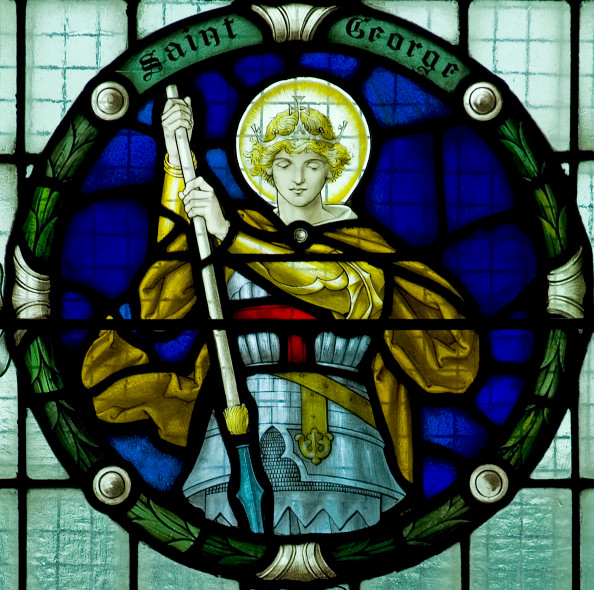 One of the most beloved saints in the world is Saint George, but how many of us can actually say we know anything about him? We might make some conclusions from looking at his icon, where we find a soldier on a horse attacking a dragon/serpent.
St. George was born in the late 3rd century. His father was from Cappadocia (in modern day Turkey) and his mother was from Palestine. St. George's father was martyred, so his mother moved back to Palestine and raised St. George there with good education and in pious faith. St. George joined the army has soon as he could. He quickly earned ranks and was stationed in Nicomedia as a guard attached to Roman Emperor Diocletian. Diocletian was one of the most ruthless emperors for Christian persecution. St. George was asked to persecute the Christians but he would not and he showed that he was a Christian. Diocletian then ordered the torture and execution of St. George.
St. George survived several attempts to kill him. The first torture was him being placed on a wheel and as the wheel turned, St. George was pierced all over his body, but an angel came and healed him. They put him in a pit and covered him with lime and three days later they dug him out and he was unharmed. They put him in iron shoes with hot nails. Then they whipped him brutally. They poisoned him. After all of this, Diocletian asked by what power he was able to survive all this and he said that Christ had saved him. Diocletian asked about what kind of stuff Christ had done and St. George mentioned all the miracles, including Christ's resurrections. Intrigued by the idea of resurrection, they took St. George to a cemetery and through a prayer a body came out of the grave. Eventually St. George was taken to the pagan temple, where he called out the demons that inhabited the idols, which claimed they were not gods. Ultimately he was beheaded on April 23, 303 AD.
Wait…. Where was the dragon? Well the truth is the tale of St. George and the dragon may just be a tale. As the tale goes, St. George kills the dragon after calling on the name of Holy Trinity. This is probably just a story to represent the battle between Christianity and Satan, the serpent. Regardless, this tradition is so popular, that it is conveyed in almost every icon of St. George.
St. George is traditionally celebrated on April 23rd, on the anniversary of his death, but often the date of the celebration of St. George moves. When April 23rd lands during Lent the feast is moved to the Monday after Pascha, so that we can fully celebrate this great saint of the Church.
St. George has a reputation of interceding everyone who asks for him with sincerity. Many Muslim people throughout Turkey visit Churches named after St. George and ask for healing, and many are healed. When I was in Constantinople, the Chora Church has one bust of a saint that was not destroyed, and of course, it was the head of St. George. He is beloved by many and intercedes for all of humanity. May St. George intercede for us.
About Andrew Athanasiou
Andrew is a student of Holy Cross Greek Orthodox School of Theology, located in Brookline, Massachusetts. Andrew is a Masters of Divinity Student who is also a Seminarian. Andrew is from Pittsburgh, Pennsylvania, and his knowledge comes from five major sources: Greek Orthodox Seminary; Greek Orthodox Summer Camp; both being taught and teaching in Greek Orthodox Sunday School; and finally further readings and interests in other theological areas.
Categorized in: Greek Orthodox Religious Information
This post was written by Andrew Athanasiou