St. Philip Orthodox Saint History and Name Day Information
Written by Greek Boston in Ancient Greek History, Greek Orthodox Religious Information Comments Off on St. Philip Orthodox Saint History and Name Day Information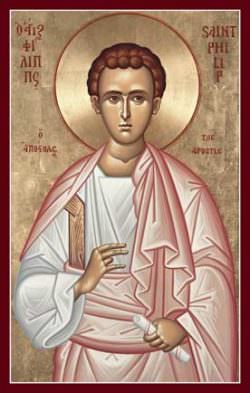 In the Orthodox Christian Church, the lives of the saints are honored and those who are named after these saints celebrate their name days. Saint Philip is one of these saints. There were actually two Saint Philips in the Orthodox Christian Church history. This particular Saint Philip was one of the Twelve Apostles and he is referred to as Philip the Apostle. He is one of the apostles who was martyred while preaching about Jesus Christ. His name day is on November 14th of each year. Here's more information about Saint Philip, also referred to as the Apostle Philip:
Early Life of Saint Philip
The Apostle Philip was born in Bethsaida, which was near Galilea. He is one of those people who was exceptionally knowledgeable on the scriptures, which are the books of the Bible that we now refer to as the Old Testament. When he met Jesus, he immediately recognized him as the Messiah mentioned in the scriptures and began following him. He was mentioned in the Gospel of John as one of the original disciples who was present by Jesus' side during many key moments that are recounted in the New Testament.
Later Years of Saint Philip
After Pentacost, which is when the Holy Spirit descended after Jesus ascended to heaven after His resurrection, Philip began to preach in Asia Minor. He eventually lost his life in Hieropolis, which was in Phrygia, a region that is now part of Anatolia in modern-day Turkey. He is  is one of the Apostles who actually crucified.
While preaching, he prayed and killed a snake that pagans in Hieropolos worshipped. He was with the Apostle Bartholomew and his sister, Mariamma at the time. The fact that their beloved snake was killed angered the pagans and they sentenced Philip to death. He was crucified on a similar cross that Jesus was crucified on, except Philip was upside down.
Saint Philip's tomb was actually discovered in 2011 in modern-day Turkey in the Denizli province. Prior to this discovery, people believed that he was buried in Hieropolis, but this ended up not being the case.
Hymns About the Apostle Philip
There are some hymns that are sung in the Orthodox Church. Here's more information:
Troparion (Tone 3) 
Holy Apostle Philip,
entreat the merciful God
to grant our souls forgiveness of transgressions.
Kontakion (Tone 8) 
Your disciple, friend and imitator of Your passion,
the God-preaching Philip, proclaimed You to the universe!
By his prayers deliver Your Church from her enemies;
through the Theotokos protect every city, most merciful Christ!
Saint Philip was one of the twelve original apostles and he was martyred in Hieropolis while praching about Jesus. Those who are named after him celebrate their name day  on November 14. Visit the Name Day page for more information about other Orthodox Christian name days.
Source:
Orthodox Wiki – Apostle Philip (of the Twelve) – Also Source for Photo credit for image above
Wikipedia – Philip the Apostle
Categorized in: Ancient Greek History, Greek Orthodox Religious Information
This post was written by Greek Boston