Orthodox Saint Basil History and Name Day Information
Written by Greek Boston in Greek Orthodox Religious Information Comments Off on Orthodox Saint Basil History and Name Day Information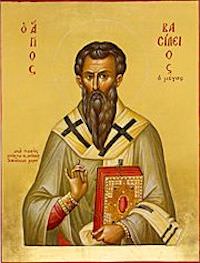 When it comes to the Greek Orthodox Church, the lives of the saints are important to our own daily lives. Each year, we celebrate the feast days of all the saints. Those who are named after a particular saint will celebrate their name days on these feast days.
Saint Basil is one of these individuals, and those who are named after him will celebrate their name day on January 1st of each year. Since he is also one of the Three Holy Hierarchs, He is] on January 30th with the other two. Here's more information about him:
About Saint Basil
Saint Basil, who is also referred to as Saint Basil the Great, is considered to be one of the Three Holy Hierarchs, along with Gregory the Theologian and Saint John Crysostom. This honor was bestowed upon him because of what he did for Christianity during his time.
According to the historical records, Saint Basil was born in 330 A.D. in Cappadocia, which was in Caesarea. He was born in to a family that had considerable wealth, and they were also known for being strong believers in Christ and the other Christian teachings. The whole family lived their lives as devout Christians.  Other of his family members, such as his grandmother, Saint Emilia, and his sister, Saint Macrina the Younger, and his brothers, Saints Gregory of Nyssa and Peter of Sabaste, also made contributions and are important to church history.
As he learned more about Christianity, he decided to live a life of service to the church where he eventually became the Bishop of Caesarea. During his time serving God, he also did work protecting the church from Arianism.
Writing of Saint Basil
One of his major contributions to Christianity is that he wrote several volumes explaining the faith to others. These include the Treatise on the Holy Spirit, Refutation of the Apology of the Impious Eunomius, The Six Days of Creation, and more. He is also credited with writing one of the Divine Liturgies that we celebrate. Referred to as the Liturgy of Saint Basil the Great, we tend to us it during Lent and at other times during the year.
Hymns of Saint Basil
There are some hymns that can be found in the Orthodox Christian church service that celebrate Saint Basil. Here are the details:
Troparion (Tone 1)
Your proclamation has gone out into all the earth
Which was divinely taught by hearing your voice
Expounding the nature of creatures,
Ennobling the manners of men.
O holy father of a royal priesthood,
Entreat Christ God that our souls may be saved.
Kontakion (Tone 4)
You were revealed as the sure foundation of the Church,
Granting all men a lordship which cannot be taken away,
Sealing it with your precepts,
O Venerable and Heavenly Father Basil.
Saint Basil's name day is typically celebrated on June 15th. He is also remembered on August 2nd and December 27th of each year. Check the Name Day page for more information about other Orthodox Christian name days.
Source:

OrthodoxWiki – Basil the Great (Also Source for Photo Credit for Image Above)
OrthodoxWiki – Three Holy Heirarchs
Categorized in: Greek Orthodox Religious Information
This post was written by Greek Boston