Orthodox Saint Pelagia History and Name Day Information
Written by Greek Boston in Greek Orthodox Religious Information Comments Off on Orthodox Saint Pelagia History and Name Day Information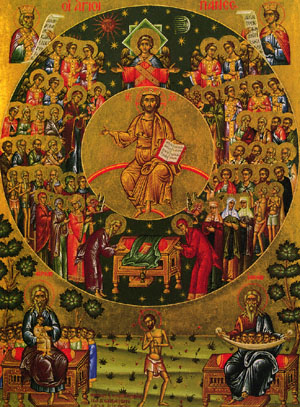 For Orthodox Christians, learning about the saints is a part of the church experience. They learn about the saints on a regular basis, and each saint has his or her own special day in the church calendar. Some are named after the saints and those who are would celebrate their name days on the saints' feast days. In fact, in some countries, the name day is more highly regarded than an individual's birthday!
Saint Pelagia is one of those saints. Her feast day is on October 8th of each here. Heres more information about who he was and the contribution he made to the Greek Orthodox Church:
About Saint Pelagia
Sent Pelagia, also known as Pelagia the Righteous, is one of the saints of the Orthodox Christian Church. She was known for being a prominent and somewhat famous actress in the city of Antioch. She spent the early part of her life as a pagan, and she would regularly act in pagan plays and religious festivals. She was also known for her lavish and luxurious lifestyle.
However, all that would change. Pelagia found Christianity and was eventually baptized into the faith by Saint Nonnas, who was a bishop. After she converted, she left Antioch for the Mount of Olives in Jerusalem and became a recluse, living a quiet life of prayer. She spent her time in isolation and worked on repenting for the sins she committed while in her former life as a pagan. After a few years, she reposed as a devout Christian and was buried on the Mount of Olives.
Hymns of Saint Pelagia
Saint Pelgagia's feast day is on October 8th of each year. Here are some hymns that are sung or chanted during this day:
Apolytikion of Righteous Pelagia – Plagal of the Fourth Tone
The image of God, was faithfully preserved in you, O Mother. For you took up the Cross and followed Christ. By Your actions you taught us to look beyond the flesh for it passes, rather to be concerned about the soul which is immortal. Wherefore, O Holy Pelagia, your soul rejoices with the angels.
Kontakion of Righteous Pelagia – Second Tone
With fasting didst thou consume thy body utterly; with vigilant prayer didst thou entreat thy Fashioner that complete forgiveness of thy former deeds be granted thee, which, O Mother, thou didst receive. The path of repentance hast thou shown to us.
Saint Pelagia is one of the early saints of the Orthodox Christian Church and her feast day is on October 8th. Check the Name Day page for more information about other Orthodox Christian name days.
Source:
GoArch.org – Also Source for Image
Categorized in: Greek Orthodox Religious Information
This post was written by Greek Boston