Explore Aegina's Past and Present
Written by Greek Boston in About Aegina, Greece, Greek Travel Guide Comments Off on Explore Aegina's Past and Present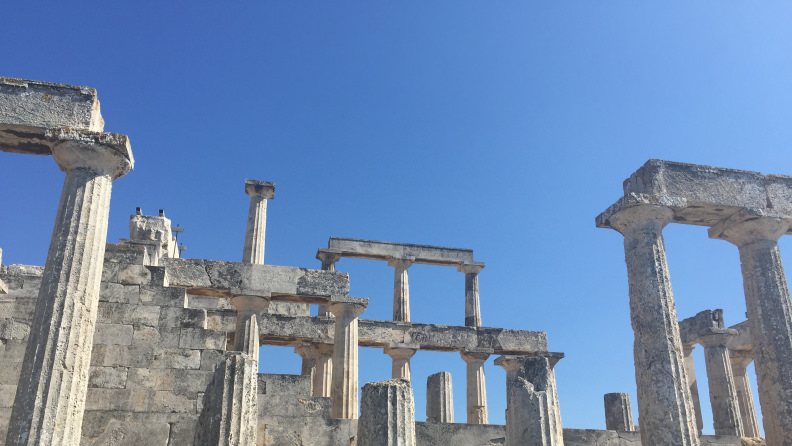 Aegina has all the easy charm of a relaxing Greek island, but without all the crowds. It's perched on the Saronic Gulf and, besides being a haven for tourists, is also a common weekend destination for native Greeks. It's a place where the past and present intersect nicely, and history aficionados will find plenty of things to satisfy their curiosity of times past. However, that's not all the island has to offer. This island provides travelers with a perfect escape.
The port of Aegina has a bustle that the rest of the island doesn't feel. Fisherman haul in their fresh catches, while busy cooks and restaurant owners clamor for the best choices. The island is also on an active ferry route, and the boats are constantly stopping here to let passengers on and off. There's also plenty of restaurants, bars and cafes scattered throughout the port area, waiting to give weary travelers sustenance.
For those eager to explore Greek mythology, the Temple of Aphaia, which was dedicated to the goddess Apahaia, is perched over the beautiful island landscape and is a stunning example of Doric architecture. Interestingly enough, the only real evidence that archaeologists have found concerning the goddess is isolated at this time. It seems as if this was the only place in all of Ancient Greece where she was worshipped. According to legend, she was close to Artemis, who eventually turned her into a goddess.
The history of Aegina is also fairly turbulent. By 7th Century B.C, Aegina had a formidable navy and greatly assisted the Athenian city-state during the Persian Wars. Aegina played a big part in the Greek victory at the Battle of Salamis, which many helped turn the tide of that war. Xerxes eventually retreated and was never able to conquer Ancient Greece.
Aegina's landscape is also fairly unique. About two-thirds of the island actually houses an extinct volcano. Volcanic activity played a large part in shaping the current landscape of the island. While the terrain isn't particularly rocky, the soil is extremely fertile, which could be a direct result of the volcanic activity. However, inhabitants need not be concerned – the volcano isn't as formidable as it once was. Now, all that remains is the evidence of its existence. Nevertheless, it's important to understand how the volcano itself shaped the history of the island.
Just like any Greek island, there is a lively culture by the coast. There are plenty of beaches here to satisfy any holiday-goer. It's also a major draw for those looking to escape the city, so it experiences a steady influx of travelers throughout the year, many of which come from Athens. Be sure to check out beaches such as Agia Marina and Vagia. They're considered to be some of the island's best.
Since it is so close to Athens (only about 15 nautical miles) that makes it an easy stop during your Greek vacation. In fact, it's a fairly easy ferry ride from Piraeus, which is close to the Athenian airport. The island is so interesting and unique, that you'll want to spend at least a few days here.
PLEASE NOTE: The Greek travel section at GreekBoston.com are not paid reviews. Our unbiased and informative travel articles are designed review the popular cities, islands and places in Greece. We are not always able to exactly match the photos to the destinations, but we do try to get close. However, we are not looking for photo submissions at this time. If you find something in a Greek travel article that is not accurate based on your personal experience, please send us an email to greekboston@worldwidegreeks.com and we will consider your suggestions. Thanks for reading the travel section at GreekBoston.com!
Categorized in: About Aegina, Greece, Greek Travel Guide
This post was written by Greek Boston
Share this Greek Travel Article: