Take a Trip to the Agora Museum in Athens
Written by GreekBoston.com in About Athens, Greece, Greek Travel Guide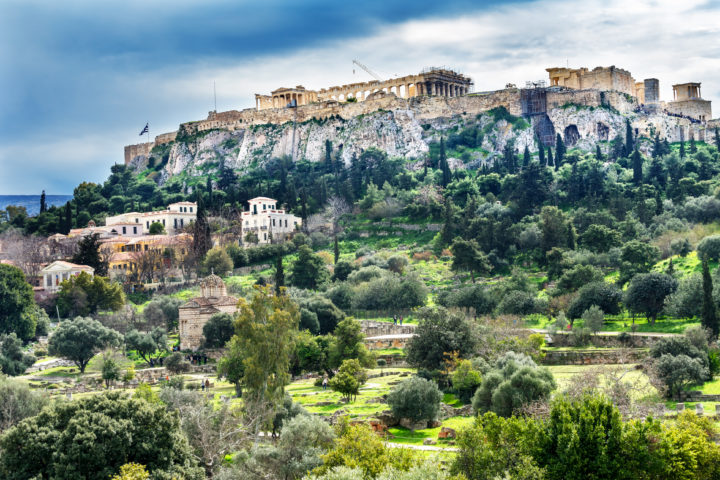 Within the Ancient Agora, an ancient marketplace that was at one time the focal point of administrative, commercial, political, and social activity in Athens, is the Agora Museum. The museum is housed in the Stoa of Attalos, which was once a shopping mall. It was originally built by King Attalos II of Pergamon and later destroyed. The American School of Classical Studies reconstructed it in the 1950s and the reconstruction was funded by a donation from John D. Rockefeller, Jr.
Entrance to the Agora Museum in the Stoa of Attalos is included with a ticket to visit the Ancient Agora. The exhibits display the complexities of ancient life.
Highlights of the Agora museum include:
Head of a Triton
Head of a Triton comes from one of the statues that decorated the Odeon of Agrippa. It is from AD 150.
Pottery
The display showcases how pottery, a popular export product for Greeks, evolved over time. The pottery featured geometric patterns, then floral and animal motifs, and finally painted human silhouettes. Archaeologists have learned about trading habits by tracing local styles of pottery manufacture and decoration. Visitors can find jars from various eras.
Items from early democracy
Ancient Agora was once the heart of political activity in Athens. Visitors to the museum can find a "voting machine" that was used to choose judges, bronze ballots from the fourth century, a klepsydra or "water thief" which was a water clock used to time speeches at Council meetings (it took six minutes for the 1.7 gallons to drain out), and the "Stele of Democracy", a stone monument inscribed with a decree outlawing tyranny.
Bronze Shield
The Athenians captured this trophy from the Spartans when they won the Battle of Sphacteria in 425 BC. This gave Athens the upper hand in the first phase of the Peloponnesian War. On the front of the shield, an Athenian victor inscribed, "Athens defeated Sparta at Pylos".
Head of Nike
The Head of Athena Nike, dated to around 425 BC, was once covered with sheets of silver and gold.
Winged Nike
This Statue of Athena was once found at the Agora's Stoa of Zeus Eleutherios. It dates to around 415 BC. The active stance and tunic are typical of the way Athena was depicted at the time.
Coins
Drachms and tetradrachms feature Athena with her helmet. A drachm was roughly a day's wage in the Golden Age. These coins were put in the mouths of the deceased as payment for the underworld ferryman Charon to carry the soul safely across the River Styx.
Views of the Agora and Temple of Hephaistos
The open-air upper floor of the museum offers wonderful views.
While visiting the Agora in Athens, you should absolutely visit the museum in order to look at the beautiful artifacts and learn a bit about history.
Categorized in: About Athens, Greece, Greek Travel Guide
This post was written by GreekBoston.com
Like this article? Please share below: