Enjoy a Show at an Ancient Greek Amphitheatre
Written by GreekBoston.com in About Peloponnese, Greece, Greek Travel Guide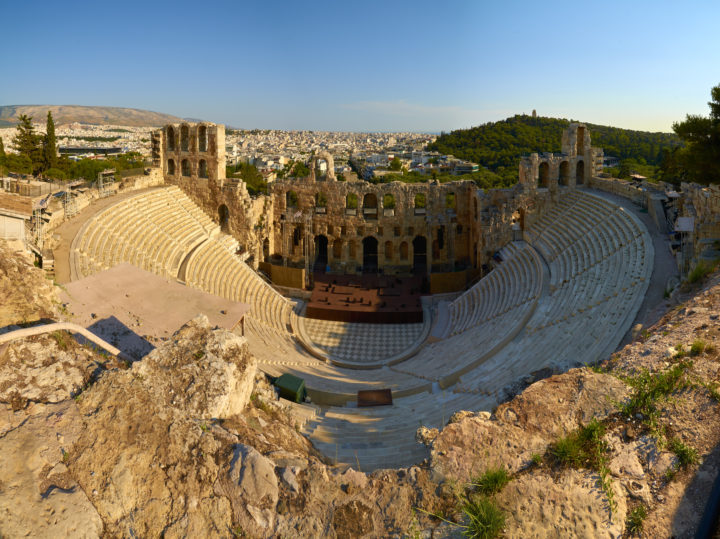 If you visit Greece during the summertime, you'll have the opportunity to see a performance at a beautiful ancient amphitheater. Two of the most well known ancient amphitheaters in Greece include the Odeon of Herodes Atticus in Athens and the Theatre of Epidauros in the Argolis prefecture of the Peloponnese.
The Odeon of Herodes Atticus, also known as the Irodion by Athenians, is nestled into the hillside near the Acropolis of Athens. Built in AD 161 by the wealthy Roman, Herodes Atticus, in memory of his wife Regilla, it seats 5,000 and was restored using pentelic marble and reopened in 1955 for the Athens and Epidaurus Festival. Part of its beauty is due to the fact that it has the Acropolis as its backdrop.
Since it reopened in 1955, the Odeon of Herodes Atticus has held many diverse entertainment programs. Patrons sit on cushions on the marble seats to enjoy performances that range from the Royal Ballet to ancient tragedies and Attic comedies. The amphitheater serves as the main venue for the Athens Festival, which is part of the Hellenic Festival, Greece's premier cultural festival that features an impressive line-up of local and international music, dance, and theatre.
Memorable shows and performances that have been held at The Odeon of Herodes Atticus in the modern era include the Miss Universe 1973 pageant, Yanni's Live at the Acropolis performance in September 1993, Sting's Mercury Falling Tour on May 17, 1996, Elton John's two concerts at the venue during his Medusa Tour in 2000, and tenor Andrea Bocelli's concert that was held to raise funds for cancer research.
If you'd like to visit the Odeon of Herodes Atticus, you must have a ticket to one of its performances since you cannot enter without one.
The Theatre of Epidauros is located in the Argolis prefecture of the Peloponnese, approximately a half-hour drive from Nafplio and a two-hour drive from Athens. It is situated within the Sanctuary of Asklepios, once the most famous healing center in the ancient world. The theatre's setting among pine-covered hills makes it an exceptional location to enjoy a show in an historical location.
Designed by Polykleitos the Younger in the 4th century BC, the Theatre of Epidauros is remarkably well preserved because it was buried in antiquity and remained untouched until it was uncovered in the late 19th century. Built of limestone, it seats up to 14,000 people. The theatre is best known for its symmetry, beauty, and amazing acoustics. In fact, it still claims acoustics so perfect that every word can be heard from the highest seat. The acoustics are the result of its advanced design. The limestone filters out low-frequency sounds, such as the murmur of the crowd, and amplifies high-frequency sounds from the stage.
The Theatre of Epidauros is the setting for many Athens and Epidaurus Festival performances that run from June through August.
Categorized in: About Peloponnese, Greece, Greek Travel Guide
This post was written by GreekBoston.com
Like this article? Please share below: