Why Visit Kourkoumelata Village on Kefalonia
Written by Greek Boston in About Kefalonia Island, Greece, Greek Travel Guide Comments Off on Why Visit Kourkoumelata Village on Kefalonia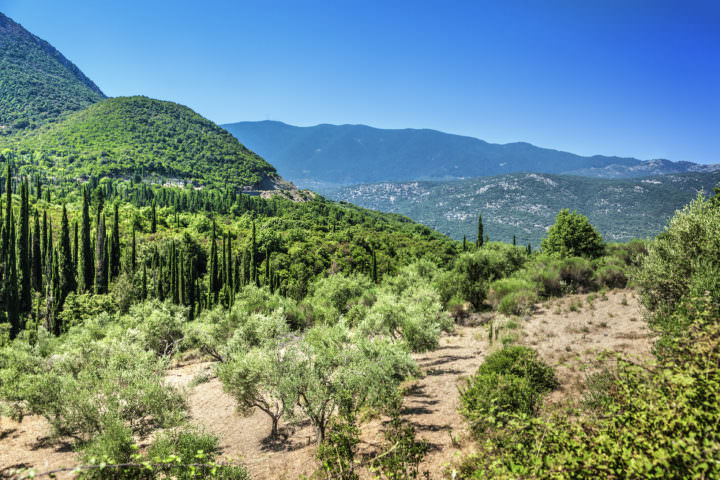 While on Kefalonia, there is certainly no shortage of things to do. Besides all the typical pursuits, such as going to the beach and exploring all the sites. The island tends to give people the impression that it is easy to get lost here. One of the top things to do is explore some of the many villages that dot the island. Kourkoumelata is one of those villages. here's more information:
Getting to Kourkoumelata Village
Before you can actually visit Kourkoumelata Village, you need to first make your way to the island of Kefalonia.  Kefalonia is well connected with Athens, and it is possible to either take a flight from the main airport or a ferry from the port of Piraeus, which is close to Athens. The airport in Kefalonia is nearly eight kilometers from Argostoli, the capital of the island, which means there are plenty of options for transportation. Once you get to Argostoli, you can take a bus or tax to the village of Kourkoumelata. 
About Kourkoumelata Village
Kourkoumelata is arguably the most beautiful, picturesque, superb and impressive village you can find in Kefalonia. These amazing villages are entirely different from one another, a phenomenon that makes them satisfy the taste of nearly everyone. Kourkoumelata is hugely considered as the crown jewel among the villages in Kefalonia perhaps because of its unrivaled beauty and color. It boasts of colorful structures, gardens, impressive town planning and street layout. Despite its current status as the most beautiful village in the region, Kourkoumelata has undergone lots of transformation.
In 1953, an earthquake destroyed this village and the residents were crippled with social and economic problems because of it. However, a wealthy ship owner,  Vergotis Giorgos, who grew up in Kourkoumelata, rebuilt the village to turn things around. During this process, it was reconstructed in line with the neoclassical architectural designs of those times as well as the official street layout which had lots of Swiss influence. Emphasis was also placed on modern city planning, and this ultimately resulted in the area being a real jewel filled with beautiful buildings, churches, and gardens. Today, it has a reputation as being one of the most elegant settlement in Kefalonia.
Visiting Kourkoumelata Village
There are many places that you can visit and explore while in Kourkoumelata. This village is filled with a whole host of churches, Livathos as well as sports and outdoor facilities. However, there are two outstanding spots in the region; the George and Marie Vergottis Cultural Center and the local stadium. During the summer, you'll always enjoy a variety of concerts and events which are held regularly. You'll also get the chance to explore the Philharmonic cultural center, a place always full of fun. What's more, there is a local café which assumes the shape of a ship, and if you are an individual who loves vegetation as I do, you'll have an opportunity to see breathtaking gardens filled with palm trees.
Kourkoumelata is definitely worth a visit! It is full of history, but, it also boasts of some of the most beautiful and modern buildings on the island. Be sure to stop in while on Kefalonia!
PLEASE NOTE: The Greek travel section at GreekBoston.com are not paid reviews. Our unbiased and informative travel articles are designed review the popular cities, islands and places in Greece. We are not always able to exactly match the photos to the destinations, but we do try to get close. However, we are not looking for photo submissions at this time. If you find something in a Greek travel article that is not accurate based on your personal experience, please send us an email to greekboston@worldwidegreeks.com and we will consider your suggestions. Thanks for reading the travel section at GreekBoston.com!
Categorized in: About Kefalonia Island, Greece, Greek Travel Guide
This post was written by Greek Boston
Share this Greek Travel Article: