Visit These Attractions While in Ios, Greece
Written by GreekBoston.com in About Ios, Greece, Greek Travel Guide Comments Off on Visit These Attractions While in Ios, Greece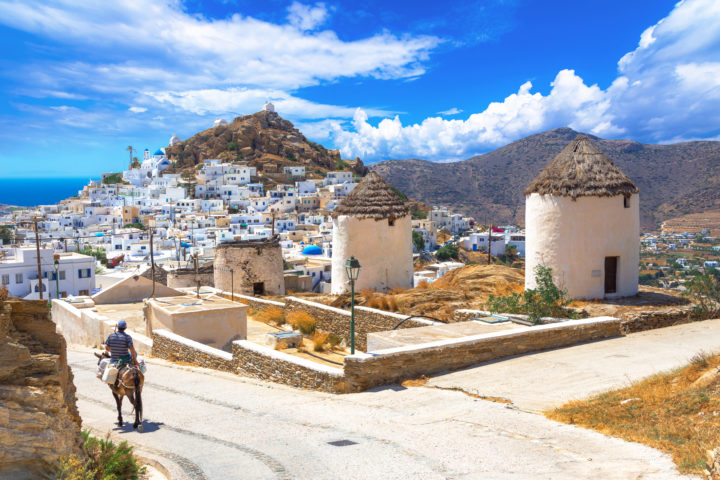 The Greek island of Ios is well-known for its exquisite beauty. The view of the Aegean sea, the whitewashed houses with blue windows, the breathtaking landscape, and beaches will have you entranced. If you're visiting the island of Ios, you will want to want to see these prominent attractions and beaches.
Magganari Beach
Magganari Beach in Ios, Greece is known to be one of the most beautiful beaches of the Aegean. The beach is easily accessible and well-organized with sun beds and umbrellas available. There are taverns nearby when you are in the mood for a meal or drink. Magganari Beach is located at the southern side of Ios Island. The long sandy beach features turquoise waters. Three coves at the beach form a lovely lagoon that is protected from the wind and waves. Scenes from the movie Deep Blue were filmed here.
Tomb of Homer
Homer was one of the greatest poets of history and historical records show that he died on the island of Ios and is buried there. Legend says that Homer became so distressed by not being able to solve a riddle that fishermen posed to him that he died. The Tomb of Homer is located in the Plakoto area. The tomb is accessible by following a marked route from the region of Koulida. When you visit the Tomb of Homer, you will be treated to panoramic views of the surrounding areas.
Mylopotas Beach
Mylopotas Beach might be the most well-known beach on the island of Ios. It is located close to Chora, the main village. The long beach of Mylopotas has been awarded the Blue Flag for its clean, emerald waters and fine white sand. The beach is well-organized with sun beds and umbrellas for rent. There is also space to lay down beach towels if you prefer.
Along the beach there are a number of restaurants and places to get a drink. At the end of the beach you will find the Far Out Beach Club. If you want a bit more excitement and fun, head there and you'll find fellow party seekers. Water sports such as snorkeling are available at Mylopotas Beach.
Church of Panagia Gremiotissa
The Church of Panagia Gremiotissa is located at the highest point of Chora, which will allow you the most breathtaking views of the island of Ios and the Aegean Sea. The small church is dedicated to Panagia Gremiotissa, the protector saint of the island. The name of the church translates to Virgin Mary of the Steep Cliff, likely due to its location.
The church features a blue dome and a tall bell tower. There is a palm tree that stands right next it. If you look up from Chora, you will be able to spot the church by this palm tree. There are three other churches on the hill that you can explore.
Add these prominent beaches and attractions to your to-see list when visiting Ios, Greece.
Categorized in: About Ios, Greece, Greek Travel Guide
This post was written by GreekBoston.com
Like this article? Please share below: