Attractions to See in Halki, Greece
Written by GreekBoston.com in About Halki, Greece, Greek Travel Guide Comments Off on Attractions to See in Halki, Greece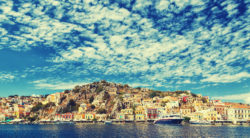 Halki is an island in the Aegean Sea. Emborio is the only village on the small island and it also serves as the main port. Emborio Village is divided into two area: Chorio (the village) and Emporio (the market). Getting to Halki Island can be done by ferry or catamaran from Rhodes harbour, or by boat from Kameiros Scala.
While the attractions on the island of Halki aren't large in number, the ones you will find are definitely worth the trip. When you aren't lounging on one of the beaches or enjoying local foods, you can take in one or all the attractions on Halki island.
Medieval Castle
Build in the 14th century by the Knights of Saint John, this medieval castle sits on a rocky hill above Chorio Village. Chorio is the old capital of Halki. The medieval castle features high walls and was built to protect the island and its residents from enemies and pirates. There are three chapels at the site of the castle, which are dedicated to the Virgin Mary, Saint Nicolas, and the Holy Trinity. The castle sits on the site of an ancient acropolis. Getting to the castle is made possible via a paved path. The view from the site makes the trip even more special.
The Clock Tower
The stone clock tower in Halki can be seen from just about everywhere making it a perfect meeting point if you are your group are going in different directions for a while or your get separated while sightseeing. The clock tower is four levels with the clocks on the third level and the bell housing above that. The clocks are not working and display twenty past four always. In the past the bells would ring every fifteen minutes. This was until residents could take it no more and asked for them to be stopped. When visiting the clock tower, you can also check out the town hall, which is located right behind it. Many of th souvenirs found on the island of Halki have an image of the cock tower on it.
Emborio Village
Emborio is the village in the island of Halki and home to many uninhabited historic buildings. The church of Agios Nikolaos is also located in the village. The church was built in 1861 and is known as the protector of the island. It features a bell tower and frescos. The village of Emborio is scenic with Venetian buildings, beautiful mansions, and quaint alleys. There are three windmills on a hill that are delightful to see. Greek taverns and restaurants where you can enjoy fresh seafood such as calamari and squid can be found in the village. If seafood isn't your thing, there are plenty of other Greek dishes you can indulge in.
The island of Halki might be small, but it has a lot to offer. These attractions should be on your to-do list to make your trip to the island complete.
Categorized in: About Halki, Greece, Greek Travel Guide
This post was written by GreekBoston.com
Like this article? Please share below: