Lounge on Dragonera Beach in Agistri
Written by Greek Boston in About Agistri, Greece, Greek Travel Guide Comments Off on Lounge on Dragonera Beach in Agistri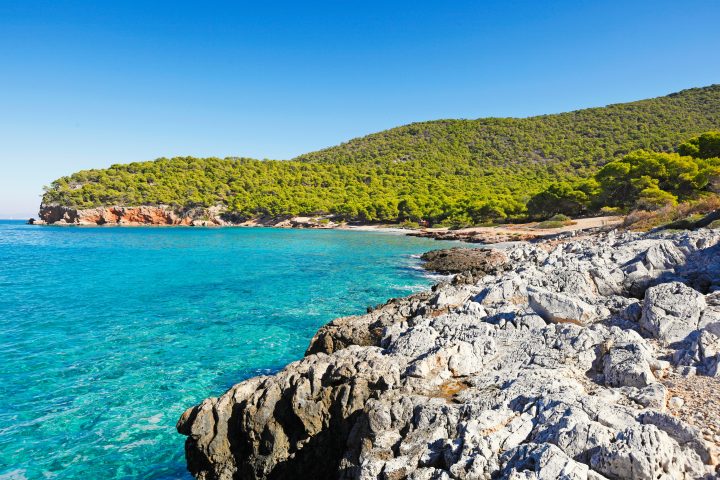 The shores of Agistri are a popular tourist destination, and if you're looking for a white sand beach with crystal clear water then Dragonera Beach is the place to visit. This picturesque spot has been attracting tourists since the early 20th century when it became popular to travel all over Europe by boat. Visitors will be impressed by the natural beauty of this coastline as well as its rich history, which dates back hundreds of years, and is connected to the ancient city of Aegina.
About Dragonera Beach
Dragonera Beach has become a must-see destination for visitors looking to get away from the hustle and bustle of everyday life. One is set to enjoy some peace by relaxing on its white sandy beaches or exploring Agistri's rich history. This beach is great for swimming, sunbathing, snorkeling, scuba diving as well as other water sports. Some of the water sports are kayaking and sailing due to its crystal-clear waters that are perfect for underwater exploration. With plenty of bars along this stretch, you can also grab lunch or dinner while sipping a glass of wine in one hand. You can after that, head back to the sand in search of seashells for your family so don't forget to bring your net.
What to Do at Dragonera Beach
Dragonera Beach is a beautiful place to spend your day, no matter what you are looking for. Whether it's a family vacation or just some time with friends, there's so much to do. To have a great time, it's important to pack right so check out for a few activities and know what to pack.
Relax in the Sun
Dragonera Beach is perfect for people who are looking for some peace. It has soft sand that stretches from one end of the beach to another. Palm trees provide shade while you relax in this gorgeous scenery. The water here is calm with no big waves or riptides which makes it safe enough for even children and babies if they're properly supervised by their parents/guardians. There's also an ice cream stand at regular intervals, making sure everyone has something delicious to eat.
You can Watch the Sunrise/Sunset
The sunrises and sunsets on Dragonera Beach are some of the most beautiful you will ever see. It's quiet, peaceful, and bright all at once – something that everyone should experience in their lifetime! There is no better place to watch these than here with nothing but sand beneath your feet as far as the eye can see. If you're looking for a romantic date or just want to enjoy nature by yourself, this is an excellent choice. Just be sure to bring along plenty of sunscreens if it happens to be during summertime.
Spend Time with Family
There is a special area in Dragonera Beach that's just for kids. Here, there are buckets and spades to build sandcastles, beach balls for all ages to play with, slides built into the sand where anyone can have fun going down them. There's even a volleyball net set up so you're able to catch some exercise while having fun at the same time. If your family wants to enjoy themselves but also get some physical activity in as well, it would be perfect to visit this spot. It has something for everyone no matter what age they may be when visiting – from toddlers up until elderly visitors, who could also use a nice walk on the beach after their meal or coffee break.
Getting to Dragonera Beach
It's not always easy to get to the beach. Sometimes you have to take a ferry or board an airplane. The island is small, and it can be tough to find parking. Try and arrive early in the morning or later at night when there are fewer people around!
Once you park your car (we hope you brought one), hop on a bike right outside of the ferry terminal. There's no public transportation so exploring will require transportation. Consider taking a taxi, renting a car, or you can even rent a bicycle to get to the beach. Though the beach can be difficult to get to, it is worth it.
Dragonera Beach in Agistri should be your choice the next time you are in search of a tourist destination. The place will offer sufficient room to break away from the everyday hustle and bustle. The environment is calm for relaxing as you the sunrise or the sunset. The experience of the bright from the sun will offer an exciting opportunity to friends and family members who may have accompanied you. Travelling to the beach may not be easy but the well detailed directions will calmly lead you to the beach. Contact us for bookings and proper accommodation while at the beach.
PLEASE NOTE: The Greek travel section at GreekBoston.com are not paid reviews. Our unbiased and informative travel articles are designed review the popular cities, islands and places in Greece. We are not always able to exactly match the photos to the destinations, but we do try to get close. However, we are not looking for photo submissions at this time. If you find something in a Greek travel article that is not accurate based on your personal experience, please send us an email to greekboston@worldwidegreeks.com and we will consider your suggestions. Thanks for reading the travel section at GreekBoston.com!
Categorized in: About Agistri, Greece, Greek Travel Guide
This post was written by Greek Boston
Share this Greek Travel Article: