Visit Filopappos Hill for Great Views of the Acropolis
Written by GreekBoston.com in About Athens, Greece, Greek Travel Guide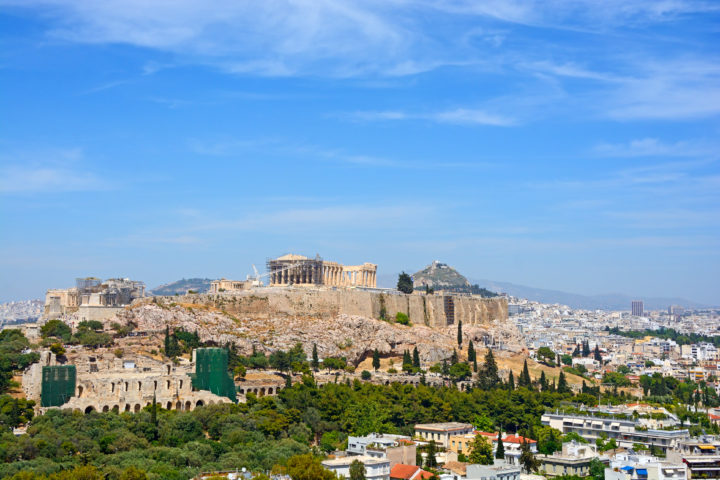 Filopappos Hill is the highest summit in the south of Athens at 147m and is known for its spectacular views of the Acropolis. It is identifiable to the southwest of the Acropolis by the Monument of Filopappos at its summit. The monument was built by the Athenians between 114 and 116 in honor of Gaius Julius Antiochus Filopappos, a prominent Roman consul and administrator. Its unusual concave marble façade contains niches with statues of Philopappus and his grandfather, Antiochus IV. A frieze around the monument depicts the arrival of Philopappus by chariot for his inauguration as Roman consul in AD 100. Its partially destroyed form looks across to the Acropolis.
Called Filopappos Hill after the Monument of Filopappos, it is also known to the ancient Greeks as "The Hill of Muses" or the Mouseion because the tomb of Musaeus, a disciple of Orpheus, was traditionally held to be here.
Filopappos Hill is known for its pine covered slopes. It's a pleasant place for a walk. The shaded maze of paths lead through monuments that mark centuries of history. Small paths weave all over the hill but the paved path to the top starts near the kiosk on Dionysiou Areopagitou . Poets have drawn inspiration while visiting Filopappos Hill. In addition to some of the best vantage points for photographing the Acropolis, Filopappos Hill also offers good views of the plain and mountains of Attica and of the Saronic Gulf. The hilltop directly overlooks all of southern Athens stretching to the sea.
Filopappos Hill also houses Socrates' prison, where Socrates was believed to be imprisoned and condemned to death. His disciples sat with him as he drank the hemlock that dispatched him.
The path through Filopappos Hill passes the Church of Agios Dimitrios Loumbardiaris, a charming Byzantine church that contains fine frescoes.
Today, the Dora Stratou Dance Theatre is located here and hosts popular folk-dancing performances late May through September. On the first day of Lent, Filopappos Hill is swarmed with hundreds of Athenians that traditionally gather to fly kites. The paths of Filopappos Hill are perfectly safe during the day, but best avoided after dark.
Categorized in: About Athens, Greece, Greek Travel Guide
This post was written by GreekBoston.com
Like this article? Please share below: