Lounge on Ganema Beach in Serifos
Written by Greek Boston in About Serifos, Greece, Greek Travel Guide Comments Off on Lounge on Ganema Beach in Serifos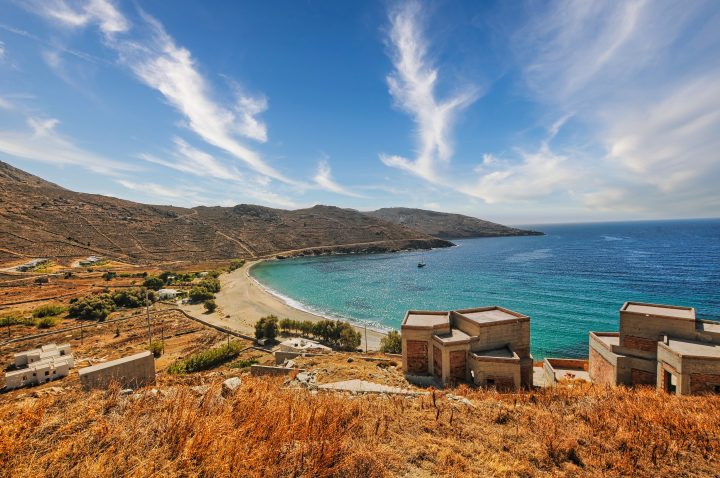 Everyone wants to visit fascinating and relaxing places during holidays. The choice of your destination will, however, depend on your needs. The destination can range from the beach to the wild—beach involves activities such as swimming, sailing, and yachting. If you prefer the beach, Ganema Beach in Serifos, Greece, is a great place to start for an incredible beach experience. Read on to get more information about it, the fun activities you can do and how to get there.
About Ganema Beach
Ganema Beach is a large beautiful beach located on the south coast of Serifos. It forms an ideal place for relaxation during vacations. On one side, it is covered by light sand and large white stones on the other side. An old shrub referred to as Tamarisks grows along this beach. Its shade provides a shadow and a cool breeze on hot days. The shore experiences soft tides and has a sloppy entry and gradual depth. These features make it a suitable place for swimming. However, when the winds are strong, it experiences strong waves. You should not enter the beach during this time.
What to Do at Ganema Beach
There are several fun activities you can carry out on this beach. These activities will bring so much relaxation to make your holiday worthwhile. You will have a splendid experience that you'll talk about for years. Firstly, there are restaurants on the beach where you can enjoy local Greece foods such as stuffed fritters and tomato eggplants. Mainly, you can do swimming on this beach. Swimming will help improve your heart rate, thus controlling cardiovascular illnesses.
It will also assist you in maintaining healthy body weight. Everyone loves swimming in the mirror-like waters. You can as well sail across the beach. Sailing will bring a relaxing breeze to help you relieve stress. In addition, you can walk along the beach. This is vital for your feet and ankles. It will strengthen your knees and relieve any pain. You should, however, wear comfortable clothes while walking along the beach. Another fun-filled activity you can do at Ganema beach is sunbathing.
Getting to Ganema Beach
You can access Ganema beach by car because there is road access. However, the road to the beach through the Ganema village is not adequately maintained. A better option would be using an all-terrain vehicle. You must pack at the beach's edge with the usual cars and walk to the shore. There is a parking lot on the beach, so you will be sure to find a parking space. You can also sail on a yacht from the neighboring beaches to Ganema.
Ganema Beach is the perfect spot for a holiday if you're looking for an isolated, natural feeling in a sea setting. With a beautiful view and few inhabitants, it will be easy to get away from crowds. Furthermore, it will provide you with all the privacy you need. The waves are perfect for swimming, and since the beach is on a small island, there will be no noise from vehicles to interrupt your sense of peace.
PLEASE NOTE: The Greek travel section at GreekBoston.com are not paid reviews. Our unbiased and informative travel articles are designed review the popular cities, islands and places in Greece. We are not always able to exactly match the photos to the destinations, but we do try to get close. However, we are not looking for photo submissions at this time. If you find something in a Greek travel article that is not accurate based on your personal experience, please send us an email to greekboston@worldwidegreeks.com and we will consider your suggestions. Thanks for reading the travel section at GreekBoston.com!
Categorized in: About Serifos, Greece, Greek Travel Guide
This post was written by Greek Boston
Share this Greek Travel Article: