Tour Kleftikos Caves on Milos Island
Written by Greek Boston in About Milos, Greece, Greek Travel Guide Comments Off on Tour Kleftikos Caves on Milos Island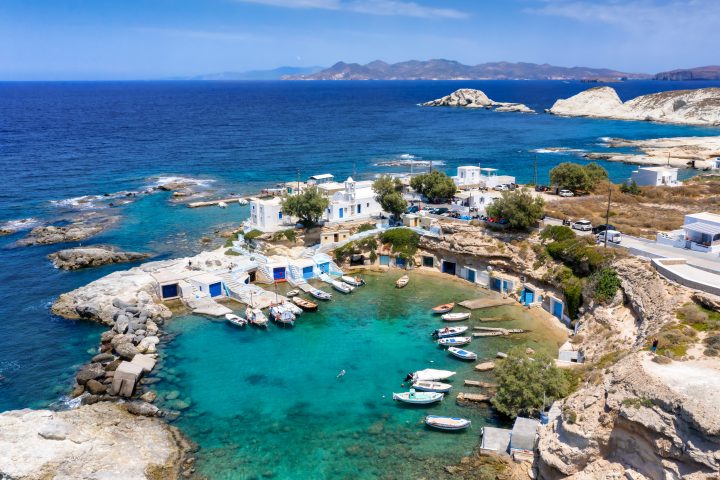 Milos Greek island is one of those picture perfect places and there is no shortage of these places in Greece. There is so much to see and do here, but one thing you should prioritize is enjoying its natural beauty. Kleftiko Caves, also called Bandit's Lair, was once a famous pirate hideaway. The pirates may have left, but the caves are still standing! Here's what you should know about them:
About Kleftiko Caves on Milos
Milos is the southwestern-most isles in the Cyclades, a cluster of islands off Greece's coast known for their natural beauty. The landmass is a 58-square-mile, horseshoe-shaped volcanic island in the Aegean Sea.The caves in Milos are off the coastline of Kleftiko Beach. It's main claim to fame is that several famous sculptures — including the Venus de Milo, Asclepius of Milos, and several statues of the Greek gods — were found on the island, though they're now scattered in museums around the world.
Summertime is the most active time on Milos. Visitors from around Greece and Europe use their holiday time to escape to resort towns on the Mediterranean. But even in the cold months, December through March, the mercury rarely dips below 50 degrees Fahrenheit, so off-season travelers can also enjoy Milos' caves if they're willing to brave a bit of breezy autumn weather. Some folks even prefer going during the winter.
What to Do at Kleftiko Caves on Milos
The caves at Kleftiko are awash in wonder. For starters, the bright-blue waters are something out of a doctored travel agency photo. Plus, the cave walls have a natural pearlescent shimmer to them. So if you enjoy nature photography, Fleftiko's caves will be a playground.
There's also a lot going on underneath the crystalline waters. Schools of colorful fish torpedo around, and it's like being at an aquarium — so don't forget to bring your snorkeling gear! Swimmers also enjoy lapping in the surrounding waters and throughout the caves. There are even swim tours for those who want to do something different!
If you're not keen to get into the sea, that's all right! Many people have a great time simply renting a boat and spending their time on deck soaking in the sun.
Getting to Kleftiko Caves
Exceptionally strong swimmers can, technically, reach the caves if they start on Kleftiko Beach, but it's not advised. The overwhelming majority of people arrive by boat because getting to the beach from which you can swim is exceptionally difficult to navigate by land due to jagged terrain.
The caves at Kleftiko are a must-see natural attraction for those visiting Milos, and there are plenty of tour companies that organize daily trips to the spot. Find one that works best for you, or, if you have a boating license, venture there on your own!
While on the island of Milos, there is a lot to do. Kleftiko Caves are well worth a visit, and there are multiple ways you can choose to experience them. Block out at least a few hours for your visit here.
PLEASE NOTE: The Greek travel section at GreekBoston.com are not paid reviews. Our unbiased and informative travel articles are designed review the popular cities, islands and places in Greece. We are not always able to exactly match the photos to the destinations, but we do try to get close. However, we are not looking for photo submissions at this time. If you find something in a Greek travel article that is not accurate based on your personal experience, please send us an email to greekboston@worldwidegreeks.com and we will consider your suggestions. Thanks for reading the travel section at GreekBoston.com!
Categorized in: About Milos, Greece, Greek Travel Guide
This post was written by Greek Boston
Share this Greek Travel Article: