Tourism Booms in Kythira in July and August
Written by GreekBoston.com in About Kythira, Greece, Greek Travel Guide Comments Off on Tourism Booms in Kythira in July and August
Kythira is considered a part of the Ionian Island group, although it is located between the Aegean and Ionian Seas off the tip of the Peloponnese's Lakonian peninsula. Tourism is low-key until July and August, when it booms.
The population is spread among 40 villages including: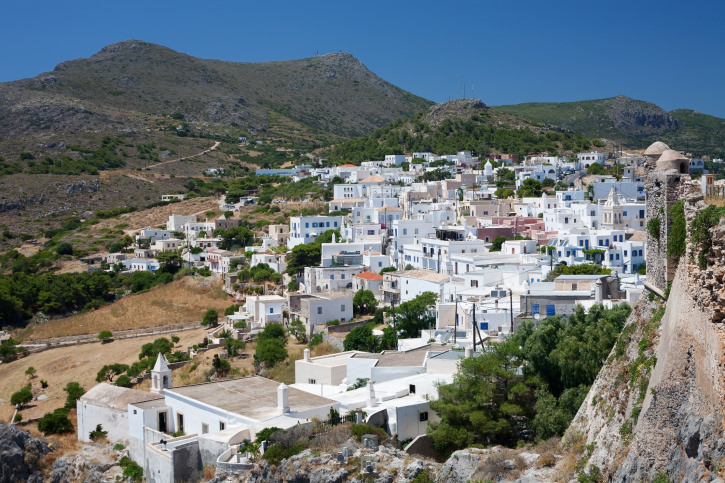 Hora
Hora is the capital that is also known as Kythira. The central square is where you'll find City Hall, banks, other services, and plenty of souvenir shops. Tourists enjoy the buildings' architecture and the Cycladic-style houses. The main site in the village is the 13th century kastro, one of Kythira's cultural highlights. Set on a cliff, it offers a stunning view of Kapsali, the village south of Hora, and views of the nearby island of Antikythira on a clear day. Inside the kastro is The Historical Archive of Kythira that hold texts and documents from the 16th century. Hora's Archaeological Museum brings the visitor back to the time of the birth of Aphrodite, who is believed to have been born here.
Kapsali
Kapsali, south of Hora, is the primary tourist village on the island and "where it all happens". Built around two beautiful bays, it features sandy beaches lined with restaurants, cafes, hotels, and other tourist businesses. Visitors can rent canoes, pedal boats, cars, mopeds, and bicycles on the waterfront. Daily boat cruises go out to the small, rocky island of Itra. Kapsali is where visitors can find the most active nightlife scene on the island.
Mylopotamos
North of Hora, Mylopotamos can be found in a small valley. The village is meant for walking and there are lots of quaint areas to explore. Hikers can visit the beautiful Neraida waterfall, a gorge, the ruins of former flourmills, and an abandoned kastro surrounded by derelict houses and little churches.
Potamos
Potamos, the largest village on the island, is considered to be Kythira's commercial hub. Unlike other villages across the island, Potamos is active all year round and doesn't slow down in the winter. Flea markets are held in the village every Sunday and they attract nearly everyone on the island. The village also has many shops, cafes, restaurants, and offices making it a focal point for residents of the northern regions of Kythira.
Mitata
Mitata is located in the north, near the airport. The village is known for its springs and abundant water. The area has lush vegetation and locals are mainly occupied in agricultural work. A Wine Festival organized by the Myrtia is held here each August.
Avlemonas
Avlemonas is considered to be the most beautiful village of Kythera. There are plenty of hotels, restaurants, and cafes in the coastal village. Paleopolis beach, one of the biggest and most beautiful on Kythira, can be found here.
Categorized in: About Kythira, Greece, Greek Travel Guide
This post was written by GreekBoston.com
Like this article? Please share below: