Kythnos is the Perfect Greek Island Escape
Written by GreekBoston.com in About Kythnos, Greece, Greek Travel Guide Comments Off on Kythnos is the Perfect Greek Island Escape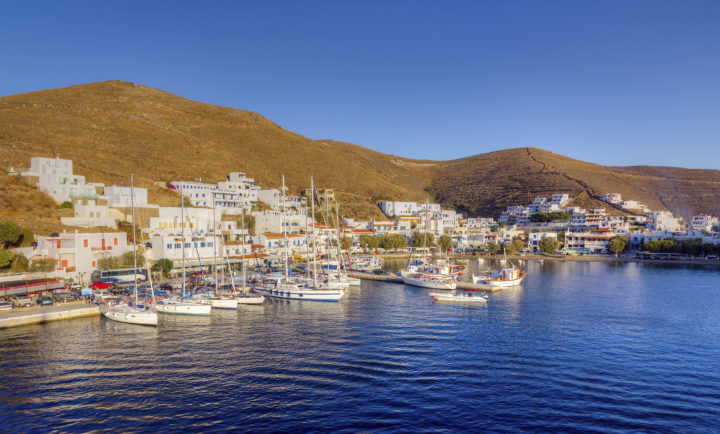 Kythnos is a picturesque island located in the Cyclades island group and can be found in between the islands of Kea and Serifos. An easy trip from Athens, it is actually only about 56 nautical miles from the port of Piraeus, making it a popular destination for Greeks who are looking to escape the city as well as for tourists. It is also a hidden gem. Since it isn't as popular with the tourists as some of the larger islands, people can travel here and be met with all the great things that Greece has to offer – without the stifling crowds. In other words, it is a perfect Greek Island escape. Here are some things you can do during your stay here:
Kolona Beach
Kythnos island is fairly hidden, and there are also places here that further add to his feeling of isolation. Kolona Beach, for instance, is only reachable by boat, which means that only those who are dedicated to finding it will be rewarded with its beauty. This is one of those beaches that is worth the trip! When you arrive, you will have the immediate impression that you've stepped into a postcard. This is the ideal spot to rest, relax, and soak up the Greek sun.
Panagia Kanala
There are Greek churches located all over Greece and while you're on Kythnos, you should stop to take a look at this one! Located in the beautiful village of Kanala, this church is perched right next to a crystal clear water source, which seems to add to the enchantment of the place. Stop in to admire the interior and exterior of the church. While you're at it, walk through the streets to take in the traditional Greek village life.
Kythnos Hot Springs
There are gorgeous hot springs located all over Greece, and Kythnos is no exception. These warm springs are reputed to have healing powers and visitors report feeling relaxed lounging in them. Guests report that the springs are best in the morning when the crowds are a little thinner. The springs tend to get busier as the day goes on.
Katafyki Cave
For those who love exploring caves, Katafyki Cave is a slight disappointment. There are no features to observe, such as stalagmite and stalactite. However, there are still a few things that make this cave worth a visit. First of all, there's the history. Greeks have been using this cave to hide from invaders for centuries. Most recently, it was used during World War II to hide from the Germans. It is also a cool cave and well lit, so you can explore it in relative safety. It is definitely worth seeing!
Loutra Beach
Not every beach on the island is as isolated as Kolona. If beach crowds are what you desire, Loutra is the place to be! This beach is so beautiful and pristine that guests flock here to soak up the sun. Located on the east coast of the island, this is the place to be if you want to enjoy the sand and water. The hot springs flow into here, which adds to the enjoyment of it.
While on the Greek island of Kythnos, you won't want to miss these activities!
PLEASE NOTE: The Greek travel section at GreekBoston.com are not paid reviews. Our unbiased and informative travel articles are designed review the popular cities, islands and places in Greece. We are not always able to exactly match the photos to the destinations, but we do try to get close. However, we are not looking for photo submissions at this time. If you find something in a Greek travel article that is not accurate based on your personal experience, please send us an email to greekboston@worldwidegreeks.com and we will consider your suggestions. Thanks for reading the travel section at GreekBoston.com!
Categorized in: About Kythnos, Greece, Greek Travel Guide
This post was written by GreekBoston.com
Share this Greek Travel Article: