Monasteries to Visit on Crete
Written by GreekBoston.com in About Crete Greece, Greek Travel Guide Comments Off on Monasteries to Visit on Crete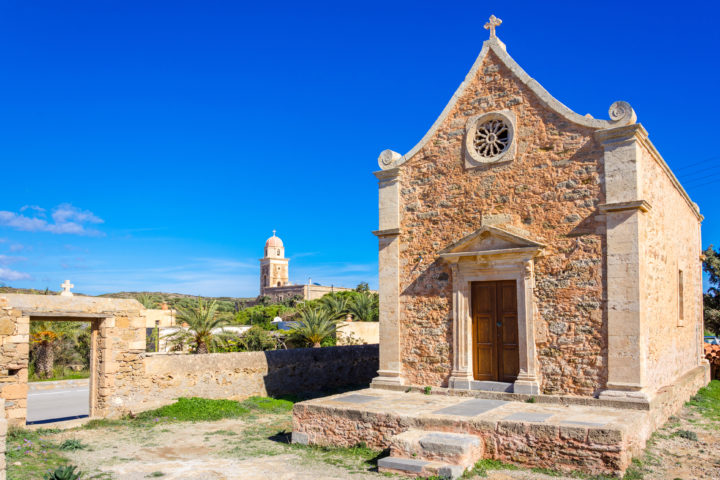 Crete is an idyllic Greek island that seems to have the perfect weather. Aside from visiting the beaches and seeing the sites, there are also religious experiences to be had here, as well. The island has a long-standing religious history, and Christianity was established here early in its history. There are still plenty of monasteries there today that are worth visiting. Here's more information:
Chrissoskalitissa Monastery
Located on the southwestern side of the town of Chania, this white settlement rests on a cliff overlooking the beach in the village of Elafonisi. Chrissoskalitissa means "golden steps" and refers to a legend that one of the steps leading to the monastery appears golden to those with pure hearts. This monastery is dedicated to the Virgin Mary.
In the present day, the Monastery of Chrissoskalitissa is a famous site of pilgrimage on Crete. It also features a museum of folklore with instruments, tools, and memorials of the Cretan Revolution.
Gonia Monastery
This monastery, originally founded by Zealot monks in the 9th century, overlooks the Cretan Sea on a hill near Kolimbari. Frequent pirate invasions led to a brief relocation, before the current structure was built in the 17th by the monk Vlassios. He had been given a vision of the monastery.
Visit the Gonia Monastery to investigate its large collection of 15th and 17th century relics, icons, and other religious objects. This monastery remains an important religious site due to the close proximity of the Orthodox Academy of Crete.
Monastery of Kroustalenia
Built on a hill nearest to the village of Agios Konstantinos, this monastery is dedicated to the Virgin Mary, as well. Originally built by the Venetians, it was rebuilt by nuns from Peloponnese. The monastery was again destroyed during the Greek War of Independence by the Turks. Not 50 years later, the complex was once more destroyed and later became the site of a German concentration camp during World War II.
Only a few monks call the Monastery of Kroustalenia home today. It remains, however, as a unique cultural landmark marked by historic changes from long ago and more recently during the 1940s.
Toplou Monastery
On the northeastern side of Crete, this monastery rises up like a castle in a remote location near Palekastro. When it was first built in the 15th century, it was called Panagia Akrotiriani, or Virgin Mary of the Lighthouse. Much of the surrounding lands belong to the monastery in order to retain the natural landscape.
A highlight of the Toplou Monastery is the collection of Byzantine icons on display to the public. Other exhibits provide background to the daily lives of monks and the role of Toplou monastery during the Byzantine era.
There are some interesting, historical monasteries that can be found on the island of Crete. Each of these are worth visiting during your time on the island. Just be sure to dress properly while there and to follow the rules. For example, monasteries often have a dress code.
Categorized in: About Crete Greece, Greek Travel Guide
This post was written by GreekBoston.com
Like this article? Please share below: